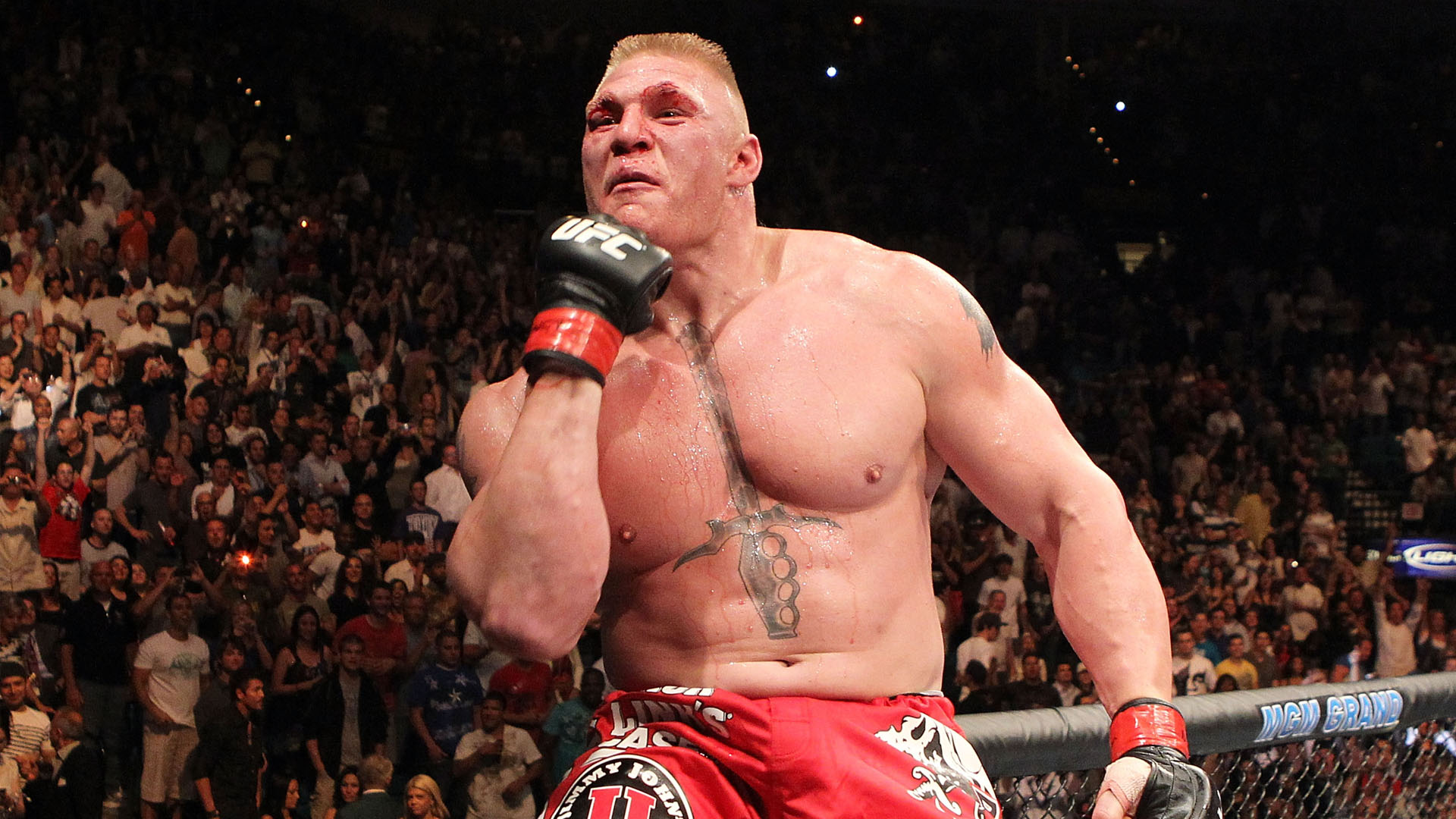 Even if he has lost his last 2 fights in the UFC (against Cain Velasquez, who then won the title and another against Alistair Overeem who destroyed him in the first round in less than 3 minutes), Brock Lesnar would still certainly a star in the organization.
Remember that Lesnar had left the UFC to return in WWE, where he was offered a contract of 5 M$ per year.
Rumours of return
From a few weeks or even a few months, you can read rumours to the effect that Lesnar could get back into the UFC.
Even if some are in bad faith and do not think that Lesnar should return in the Organization (precisely because of his latest defeats), I believe that everyone would gain to see Brock return. Here's why.
The big names are slumping
Currently, the UFC needs big names, stars to sell PPV, and if we like it or not, Brock Lesnar is among the 5 fighters to sale the most PPV (among those present in this list along with Brock, you would think GSP, Ronda, Anderson Silva and McGregor).
The UFC needs it currently (currently more than ever). Georges St-Pierre was a large seller of PPV; He is retired. Anderson Silva was a big PPV, but since its fracture, we dont see him really. He signed a new contract for 16 fights, but we learned yesterday that he was recently hospitalized for a back pain (his fight against Diaz still holds the latest news). But he is 38 years old and its future is still uncertain, despite his contract. Is McGregor, but who knows if it will be as popular after his defeat against Jose Aldo (here, I know I'm in bad faith, but let's just say that the sides are in favour of Aldo to win this fight and that, even if it is good, it has not yet proved he can become a champion)?
Ronda Rousey sells a lot of PPV, but over the last months, she seems more interested in making his self-promotion in the media than to fight. Cain Velasquez, Jon Jones and Chris Weidman also sell a lot of PPV, but in 2014, they appeir more oftent on operating tables than in the Octagon.
What think Dana White?
Questioned on the possible return of Brock Lesnar, the UFC president Dana White commented: "I have a great relationship with Brock, we talk all the time. I don't know, we'll see. If he wants to fight, he knows my number. ... It's pretty amazing what he did and accomplished here while having diverticulitis. It would be interesting to see a 100 percent healthy Brock Lesnar compete."

Everyone wins in the event of a return of Lesnar
Brock Lesnar would be a great asset for the UFC and we imagine so that the organization can give a salary equivalent to the WWE. Although it is more champion and he lost his last 2 fights, people like to see it to fight. At the base, people like heavyweight fights. Lesnar is quick and impressive in the Octagon. For its weight, it is very agile and all MMA fans want to see his fights. The UFC would gain, Brock could win, fans would gain and who knows, maybe that being at the top of his form, Brock could regain the belt he has left in the hands of Velasquez.
BLOG COMMENTS POWERED BY DISQUS
---