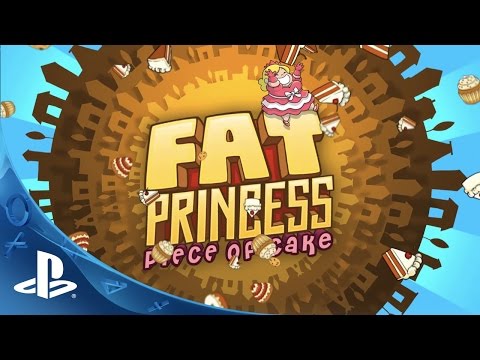 Rescue the Princess! Fat Princess: Piece of Cake takes the comic medieval battle royale to the next level with a brand-new strategic match-3 game for mobile platforms. Charge into battle with 4 different character classes! Make matches to smash through the blue army! Collect gems to upgrade your troops! Feed cake to the princess to unleash her devastating slam attack! Trigger massive combos and save the kingdom!

Bonus PS3™ Game!

Escort your beloved princess through Level 15 and earn access to a download of Fat Princess (PEGI 16+) for your PS3 system at no additional cost. You must complete Level 15 in the Fat Princess: Piece of Cake mobile game and have an active Facebook account to receive the voucher code. A valid Sony Entertainment Network account is required to redeem the voucher code and download the game t

Visit our official site: http://sms.playstation.com
Like us on Facebook: http://www.facebook.com/fatprincess
Follow us on Twitter: http://www.twitter.com/SonySantaMonica

©2015 Sony Computer Entertainment America LLC. Fat Princess: Piece of Cake is a trademark of Sony Computer Entertainment LLC. Developed by One Loop Games LLC.
BLOG COMMENTS POWERED BY DISQUS
---
Atelier Ayesha Plus -- Launch Trailer | PS Vita

< Précédent

FINAL FANTASY XIV: A Realm Reborn: Patch 2.5 - Before the Fall | PS4, PS3

Suivant >