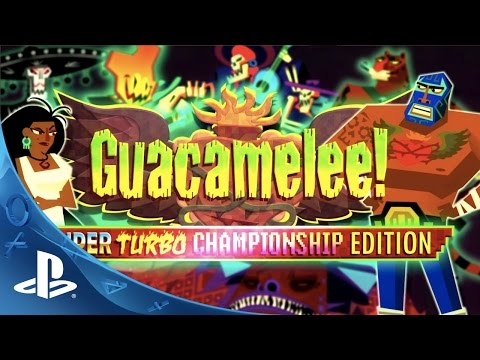 Guacamelee! STCE is a Metroid-vania style action-platformer set in a magical Mexican inspired world. http://www.guacamelee.com Do you like Luchadors? Goat-men? Undead Charro Skeletons? Flaming Bandidos? Explosive-laying chickens? Three-headed Mariachi Bands? If you answered "NO" to any of these questions, WHAT IS WRONG WITH YOU? Guacamelee! STCE builds upon the previous Guacamelee game adding a BEVY of new content, including an extended story with new game areas, a new boss character, powerful new player abilities and many other enhancements.New Features for the Guacamelee! Super Turbo Championship Edition Include:- Expanded Story: An expanded version of the game that includes DLC content from the original- New Game Areas: Players will ride boats through the Canal of Flowers to save a besieged fishing town, and avoid lava as they climb through the fiery Volcano- New Boss: Face off against The Trio of Death, a three-headed skeleton that lives in the Volcano, helping the evil Carlos Calaca build his skeleton armies- New Abilities: Maximize destruction with the powerful new INTENSO combat mode. Plus: Chicken Bombs and Independent Dimension Swapping- New Enemies: Lethal new elite-class enemies that want to chokeslam luchadores to sleep- Support for multiple save slots- Dual currency system that supports permanent item unlocks.

htt/ww p:/ w.guacamelee.com

Guacamelee! Super Turbo Championship Edition © 2014 DrinkBox Studios Inc. All Rights Reserved. Developed and Published by DrinkBox Studios Inc. DrinkBox, DrinkBox Studios, the DrinkBox Studios design, 'Guacamelee! STCE', 'Guacamelee!' and any and all associated design(s) are trademarks and/or registered trademarks of DrinkBox Studios Inc.
BLOG COMMENTS POWERED BY DISQUS
---
Toy Soldiers: War Chest -- Video Preview | PS4

< Précédent

NBA 2K15 - Yakkem Trailer | PS4, PS3

Suivant >