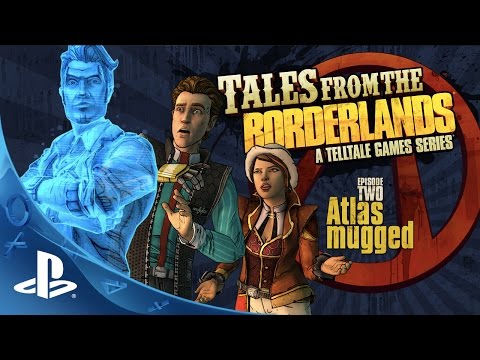 The discovery of the Gortys Project fuels a madcap race to find just what the Atlas Corporation was up to prior to Hyperion's takeover of Pandora. Our intrepid heroes are not the only ones on the trail. Vault Hunters, Bounty Hunters, Vasquez, and a giant monster thing with a mouth that looks like a... well, you'll see... are all in pursuit. And to complicate matters, Rhys is being haunted by visions of a dead despot AND what Vaughn looks like without his shirt on. Can Fiona and Sasha hold everything together? That's up to you.

Rated Mature: Violence, Blood, Language, Use of Alcohol

©2014 Telltale, Inc. Telltale, Telltale Games and the Telltale Games logo are trademarks and/or registered trademarks of Telltale, Inc. Gearbox and Borderlands, and the Gearbox Software and Borderlands logos, are registered trademarks, all used courtesy of Gearbox Software, LLC. Borderlands, Borderlands 2 and Borderlands: The Pre-Sequel are owned by IPerion, LLC and published by 2K, Inc. 2K and the 2K Logo are property of Take-Two Interactive Software, Inc. All other trademarks are the property of their respective owners. All Rights Reserved.

http://www.telltalegames.com/talesfro...
BLOG COMMENTS POWERED BY DISQUS
---