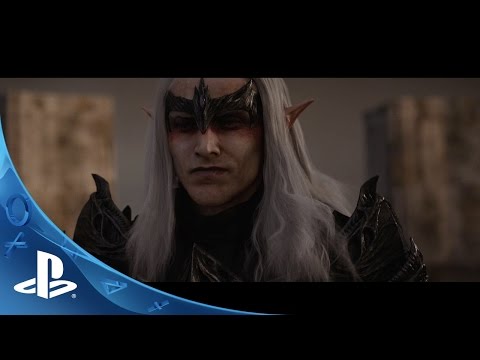 On June 9th, 2015, The Elder Scrolls Online: Tamriel Unlimited comes to Playstation 4. In The Elder Scrolls Online, three alliances struggle for control of the Ruby Throne and Tamriel itself. The chaos of war engulfs the Imperial province of Cyrodiil, and sinister forces from Oblivion seek to take advantage of the Empire's instability, hatching a scheme to enslave all mortal souls. Released originally in four separate parts, this breathtaking cinematic trailer takes you directly to the heart of the war. Witness the three alliances clash in a deadly battle for the Imperial City, unaware of the Daedric threat waiting for the perfect moment to launch its assault.

Rated Mature: Blood and Gore, Sexual Themes, Use of Alcohol, and Violence

http://www.theelderscrollsonline.com

© 2015 ZeniMax Media Inc. The Elder Scrolls®: Online developed by ZeniMax Online Studios LLC, a ZeniMax Media company. ZeniMax, The Elder Scrolls, Bethesda, Bethesda Softworks and related logos are registered trademarks or trademarks of ZeniMax Media Inc. in the US and/or other countries. All Rights Reserved.
BLOG COMMENTS POWERED BY DISQUS
---
Official Call of Duty: Advanced Warfare Havoc Trailer €œRandall...

< Précédent

The Order: 1886 - Conspiracy Trailer | PS4

Suivant >