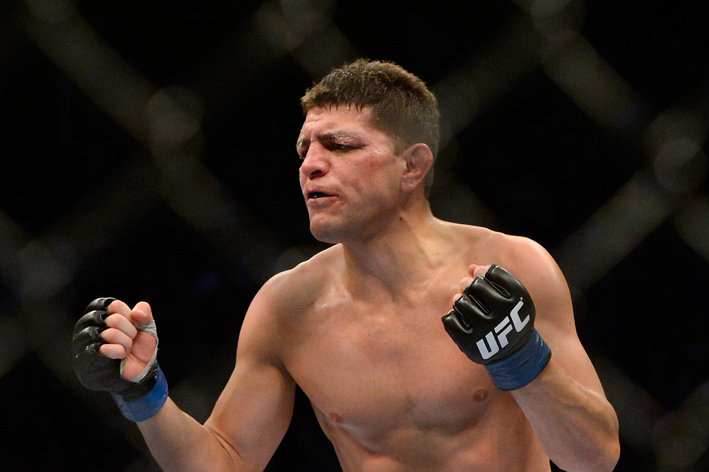 Nick Diaz had announced his retirement a few months ago. After being a standout in the Organization Strikeforce, he was signed by the UFC and has fought 3 times. On these three fights, he lost 2 and 1. But this card is worse than the fighter. Do not forget that Diaz has lost his 2 fights against 2 of the best 170-pound in the world: Carlos Condit (then a decision very tight) and Georges St-Pierre (the #1 of the 170 pounds).
It had before it defeated BJ Penn unequivocally. Recently, Nick had declared to the media that it could come out of retirement if he could fight Anderson Silva. The fight could of course be a successful Pay-Per-View. But to date, this fight is still very speculative and nothing has been confirmed.
Dated June 22, Loretta Hunt tweetait: "I met Nick Diaz last night. He was in a good mood. He said that he would like to fight before the new year."
In his words, it would try to get a contract with the UFC. Several possibilities to provide him: Carlos Condit (if he treats well his injury), Robbie Lawler or Hector Lombard. Other names could be envisaged.
Nick Diaz, even though many hate, has always attracted crowds by his aggressive style in the Octagon and his obstinacy in wanting to beat his opponent in the field where it is best. For example, if he faces a big hitter (take the example of Paul Daley) he wants to beat him with their fists. Dana White, the UFC president, has already mentioned that he was a big fan of Diaz and he was one of its fighters preferred to see.
It will be interesting to see whether or not Nick Diaz back in the UFC and if yes, what will be his opponent.
BLOG COMMENTS POWERED BY DISQUS
---