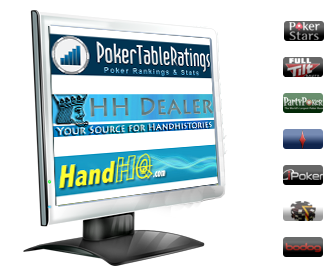 With the different solutions that are available to players for the purchase of hand histories, many stopped dataminer themselves and turned instead to sites offering this service.
During the last year, more and more people have begun selling of HH. The competition has caused a dramatic price drop, so that it is now often cheaper to buy some hand histories that dataminer is-even when it takes into account logiciiels to buy electricity spent to keep her computer open long hours, etc. Buy some hand histories is also less time-consuming and offers a much more complete coverage than what the average player would be able to dataminer himself.
Disadvantage to buy hand histories:
Unfortunately, this is not all sites that allow you buy hands when playing. I advise you therefore to comply with the terms & conditions of the sites on which you play and do not purchase histories of hands if it is prohibited by your site.

Sites do generally not prevent you to buy hand histories, but prohibit the use of purchased hand histories when you play.
Also, if you are looking for types of hands accurate (for example, from the hands of Stud and Razz), strong may be difficult to find such a provider and you will need to do yourself your datamining.

Where to buy hand histories?
There are many places; Nevertheless, some offer hand histories that are too old or incomplete. It is usually unnecessary to buy hands older than 3 months: the game of the players usually evolves with time and the pure fishs will usually stop playing after this period. This is why PokerCollectif has listed various serious suppliers offering of hand histories recent. According to the website on which you play and according to your criteria, the following article will allow you to make a more informed decision: comparison of sites selling the hand histories.
---