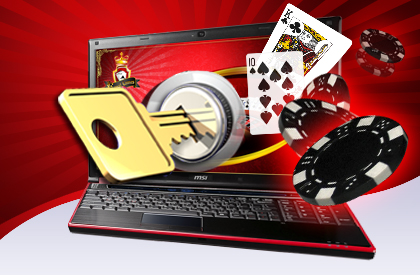 Secure your internet connection and your operating system
by Sebasdess

Those who know me for some time know that I have been defrauded for several thousand dollars at the end of the year 2006... and it gave me a good lesson! For every x months, means a person of PokerCollectif say being defraud his bankroll. Often, as in my case, it could have been easily avoided.
The article will be in several parts, so you will learn how to secure your operating system and your internet connection (first part); Here you will find a list of effective programs that will effectively protect your computer. and, finally, we will deal with the famous words of past.

This article will help you to minimise your chances of being hacked. The majority of these solutions are 100% free. So, here is a small checklist"which should you avoid many worries.

Secure your operating system:
-You are on windows 95/98/ME? You are greatly at risk! Consider switching to Windows 2000/XP/2003/Vista/Windows 7
-It is scary to see the number of person who does not keep their operating system updated. It is easy to make an automatic up-to-day. Those on windows XP have to go to "Control Panel"-> "automatic update"; those in windows Vista have that to go into 'Control panel'-> 'Security'-> "Windows Update"-> "Change settings"-> "install updates automatically"
-Ideally, use a computer for your work/poker, and another computer for your entertainment (as the porn! haha!) and when you have guests at home. So, you minimize the chances of having a virus.
-Set a password for your operating system. This is all the more important on laptops. We'll talk about passwords in part 3 of this article.
-If your browser saves your passwords (which I do not recommend), make sure you at least put a general password. To be done on Firefox, go to tools-> Options-> Security-> check «use a master password Word». If you do not set this password, anyone can go see in your firefox and watch your passwords.
-Mozilla Firefox is generally much safer than Internet Explorer. You get used to also relatively quickly, since the interface resembles that of Internet Explorer, so if you're still using Internet Explorer, consider switching to Firefox...

Secure your internet connection:
-A router will act as a hardware firewall. So think to invest in such router and invest in a good brand like Lynksys or DLink.
-The most paranoid of between you will opt for two routers with a different IP address range. (ex: 192.168.x.x and 10.x.x.x) so that if a hacker manages to drill the first router, it butera in the second.
-Make sure that your router has been set to update. Software managing your router (firmware) must be updated.
-Are you using a wireless router? Make sure that your connection is well protected! It's amazing the number of people who do not read the instructions and leave their router without protection. To:
1 - Change your original password; Encrypt then your wireless connection 64 bit at least 128 bit if possible (more encryption is high, less the signal will be strong, but this is the price to pay to be protected).
2 - Use the WAP instead if possible WEP encryption
3 - If you can, filter MAC address. A MAC address is a code unique to each network component (your modem, your network adapter and your router have all a unique: no there not two similar in the world!). So, if you tell your router to accept only connections from your computer or your laptop, this will make the task even more difficult to the hacker.
4 - Do not enable file sharing and printer or does not enable access to the "Remote Desktop" If you do not need, because they increase the risk.
If you want to know how secure your internet connection, ask on the forum Security and equipment computer , taking care to mention the brand of your modem/router.


---