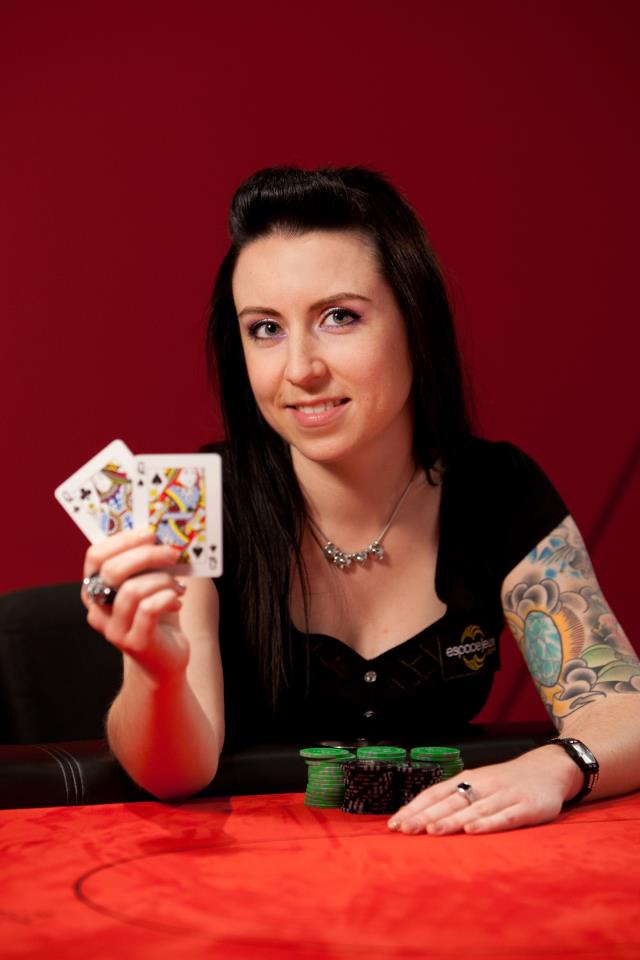 This month, Laurence "Sharon" made us gift of an article on the psychology of poker that caters especially to persons wishing to become player poker pro. How much money are you hoping to do with poker? What is the type of life that you hope to achieve by being a pro? Laurence has been playing poker for a few years already and is currently the pro for the room Espacejeux.
An interesting read if you're already asked the question!
What do you hope the poker?
I'm often answering questions about life in general on the forums of poker and Facebook, so I thought I could make an article of the type 'poker and lifestyle '. I'll nothing learn you again concretely, but maybe do reflect positively some.
The main idea of this article came to me long ago, because I'm often makes me wonder by players how much money should do x over a period of time, or how much money a player does per year?  Not ever knowing what to answer, because I do not think that there is an answer to these questions, I thought: but what do you expect the poker?First of all, people me these questions are, most of the time of the new in the field or part-time recreational players who have experienced good results. They seem to see poker as the Holy Grail, or the easiest to get rich quick.  Yet, they should know have rudimentary bases in poker and little time to invest do not provide a career long-term.
Maybe do you find me difficult to new players? On the contrary, I want to understand the reality of poker. This reality is that winning poker players in the long term do not, for the most part, millions per year.It is even more difficult to achieve in 2012 with all the knowledge spread to the general public (forums, videos, books, software, etc.) and the exponential number of new followers young and thirsty of success stories. Even some players who once were winners, have great difficulty to continue their ascent because poker is constantly evolving. They are not adjusted and have not continued their training. Today, a large majority of professional players earn their living by working many hours per week, for an average salary. You tell me that earn a middle-class wage playing poker is fantastic. And well, you're right!
It must be understood that often poker is promoted showing of champions huge tournaments and players who win or lose hundreds of thousands of dollars in part to money every day. This tiny part of players represents approximately 1% of poker players. Probably that if you don't win like these people, you will think that you do not succeed at poker. But think again. The 'instant star' Poker of the beautiful time of ChrisMoneymaker, is not very realistic.
But successful Poker, what is? Personally, I think that pay his rent, his car and all his expenses while traveling constantly is sign of a very great success. Professional players must manage their business thoroughly, put constant efforts, living the ups and downs, and caring that their main tools (be and body) are at their best. Also be aware that many players who have earned many are now in financial trouble. Not because their poker deteriorated, but because they forgot to take care of the rest. A mixture of success and bad poker player lifestyle influences them are mounted to the head and they took directions contrary to the established pros have chosen.
But there not that poker professionals who succeed. The players whom we never hear about, who earn money on a regular basis in "sideline" with poker succeed them also.  I know several who earn part-time a few thousands of dollars per year in risking very little, while keeping their passion for poker and in improving at their own pace. I find these very intelligent people; they well understood things and know their limits and aspirations.What I'm trying to make you realize, is should not expect an accurate result by playing poker. Poker, it is difficult and it requires much effort. If you manage to get through this as winner, it should make you happy. Also, when one realizes that it improves or that we understand certain concepts, should see this as a success. Certainly, you can have goals, aspirations, but it will be important to re - evaluate and be lucid in your path.
Do not play poker hoping to become a millionaire. If you manage to make profit with the poker, do you like lucky and enjoy what this income receive you. If you don't lose money and do not earn money, make sure that you like to play poker, and you work to become better. Become best in poker, as in a sport, it's stimulating intellectually, and it surely is very healthy for humans in general.
For those who are often angry to lose and who think they deserve more than another win, or that blame only factors external to themselves, maybe you should work on some areas of your life (this State says a lot about what is happening in your life in general).  You should rather roll up sleeves and work to win, as in all other things. The money will not easily come to you poker. For those who earn well their life with the poker, I hope that you enjoy and that you take the time to savor and enjoy the result of your efforts and your chance!
Laurence 'Sharon'
If not already done, you can create you an account on Espacejeux to play with Sharon.
Discuss this article on the forums of PokerCollectif: What do you hope the poker? by Sharon
---