DESCRIPTION OF THE CASINO LAC-LEAMY
Oasis of entertainment moments away from downtown Ottawa, the Casino du Lac-Leamy offers more than 1,800 slots slot and 64 gaming tables including poker Texas Hold'em. Come and enjoy an exciting Casino atmosphere. Here you will find a variety of bars and restaurants in addition to performances at the Théâtre du Casino. This exceptional site can only promise a memorable stay.
See the website of the Casino du Lac-Leamy for more information.
Outdoor parking is free.
Open 24 hours on 24, 7 days a week.
1 800 665.2274. Website
DESCRIPTION OF THE POKER ROOM
Casino du Lac-Leamy offers eighteen tables of poker Texas Hold'em with dealer. This game is offered without limit and with limits from $1 and $2.
Our poker section is furnished in a modern and trendy environment. Various sporting events are broadcast on our screens.
Location: Career section
Play places: 12 tables with croupier (play 120 places) in the living room and 6 tables (game 60 seats) in the tournaments section.
Schedule: Open 24 hours on Saturday and Sunday. Closed from 4 h to 10: 00 Monday to Friday.
Types of Texas Hold'em offered: With and without limit from $1 - $2
Commission: According to the limits. Ask our employees.
Lounge: Available for parties with friends, groups or private tournaments.
The Casino du Lac-Leamy is a non-smoking establishment.
POKER TOURNAMENTS

The Casino du Lac-Leamy offers you Texas Hold'em poker tournaments ' em regular and punctual. Stay on the lookout for activities by checking this section regularly. To register for a poker tournament Texas Hold'em, you must be at least 18 years old.
Multi-table tournaments
Tournament 'Sit and Go' no limit
On request.
For more information

HAND CRÈVE-COEUR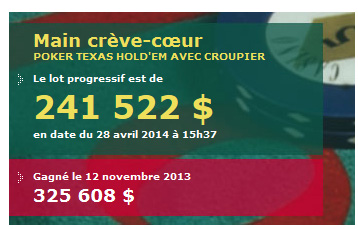 BAR POKER

Located in the heart of the game, a few steps from the Texas Hold'em tables'em, Poker bar stands out with its young and dynamic atmosphere.
For you refresh or a light meal without ever leaving 'zone', bar Poker offers a unique atmosphere and an overview on action. With trendy décor and a signed development Sid Lee this is the perfect place to watch a sporting event or a poker tournament on our screens in the company of poker enthusiasts just like you.
Opening hours: open daily from 11 am to 2 o'clock in the morning
Access restricted to persons 18 years and older.
Access for people with reduced mobility.
Menu
Chicken Salad César
Home fries
Fried Calamari
Chicken wings (8)
Putin classic French fries, cheese curds, poutine sauce
Italian Poutine fries, cheese curds, Bolognese sauce
Putin frayed fries, pulled pork, cheese curds, poutine, smoked, BBQ sauce scallions sauce
Breaded chicken burger * breast of breaded chicken, lettuce, tomatoes, mayonnaise
Burger Tex - mex * beef Angus, lettuce, avocado, peppers, pico gallo salsa made from fresh tomatoes, cilantro and onions
Burger American cheese * beef Angus, Monterey Jack cheese, bacon, lettuce, tomatoes, onions
Sandwich 1996 * corn Tortilla, chicken into strips, bell peppers, red onions, avocado, salsa, Mexican spices, cream safe
Sandwich Montrealers * rye bread, smoked meat, mustard, coleslaw House, dill pickle
Traditional Club * white or brown bread, breast of chicken, bacon, tomato, lettuce, mayonnaise
Spaghetti with Bolognese Sauce
Quarter chicken leg *.
Quarter chicken breast *.
Fish & chips *.

* These dishes are served with home fries.
Taxes not included.
---