DESCRIPTION OF THE CASINO DE MONTRÉAL
Le Casino de Montréal is the largest casino in the Canada and is situated on the île Notre-Dame in Montreal. Experience the exciting rhythm of the city of Montreal. Discover lavish sets and entertainment: more than 100 gaming tables, 2 900 machines slot as well as a new offer of restoration!
Visit the casino de Montréal web site for more information.
Open 24 hours on 24, 7 days a week.
(514) 392-2746 | Website
DESCRIPTION OF THE POKER ROOM
Play places: the Casino de Montréal offers you 18 Texas Hold'em poker tables'em with dealer. (16 when the VIP lounge is closed to replace the 2 tables by 1 Craps table)
Types of Texas Hold'em offered: this game is proposed without limit and with limits from $1 and $ 2.
Commission: 10% for 1 - 2NL Max $ 7 and 2-5 and +, the commission is 5% max $ 10.
Schedule: open every day, 24 hours a day.
The Casino de Montréal is a non-smoking establishment.
POKER TOURNAMENTS
The Casino de Montréal offers you poker tournaments Texas Hold'em regular and punctual. Stay on the lookout for activities by checking this section regularly. To register for a poker tournament Texas Hold'em, you must be at least 18 years old.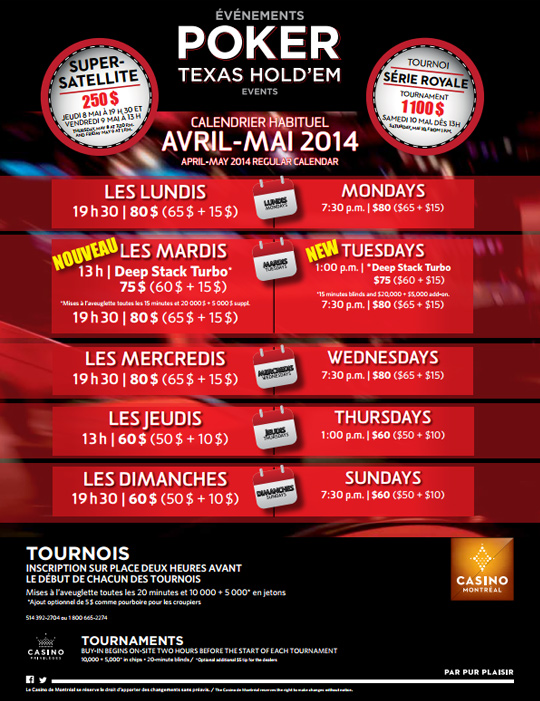 HAND CRÈVE-COEUR

Series Royal may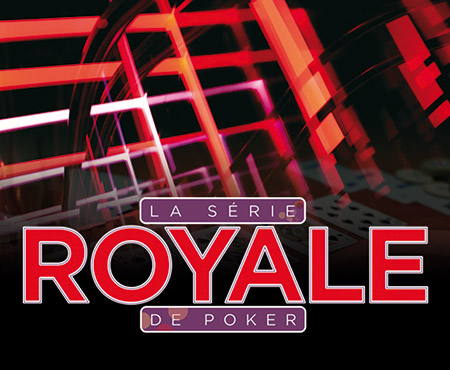 Tournament series Poker Royale on May 10, 2014.
$ 120,000 in scholarships.
From 1 pm.
Registration cost: $ 1000 + $ 100
Registration to the poker room
Super satellite to $ 250 may 8 at 7:30 and 9 may at 13: 00.

See the schedule of tournaments
---