DESCRIPTION OF THE CASINO MONT-TREMBLANT
Le Casino de Mont-Tremblant is a warm, and high-end hotel nestled in a natural environment of grandiose, first designed to accommodate a clientele of vacationers, conventioneers and holidaymakers.
The Casino stands out for its environment, its architecture and its facilities. The Casino offers also a complete and distinctive range of games, or some 650 places game (500 slot machines and 19 gaming tables with croupier, including Texas Hold'em poker tables'em). High updates section, which includes two private dining rooms, is one of the characteristic features of the establishment. The Casino de Mont - Tremblant also offers a catering service to musical ambience with the Altitude Restaurant seafood and Grill-lounge. The lounge offers free concerts on Fridays and Saturdays.
819-429-4150 or 1 877 574-2177. Website
DESCRIPTION OF THE POKER ROOM
Play places: Casino de Mont - Tremblant offers you poker Texas Hold'em with dealer.
Types of Texas Hold'em offered: this game is proposed without limit and with limits from $1 - $2.
The Casino de Charlevoix is a non-smoking establishment.
POKER TOURNAMENTS
Hand heartbreak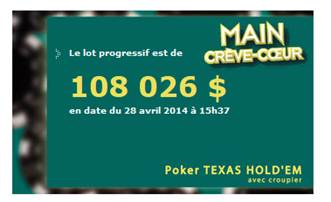 ---