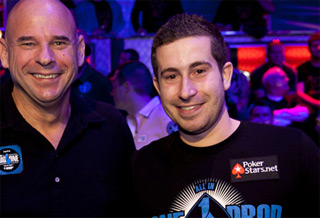 Interview with 2010 poker world champion, Jonathan Duhamel, on his presence at the tournament Big One, its amazing early in 2012, and what he learned from the unfortunate event of last December where he was the victim of a home invasion. An interview carried out and authorized by PokerListings.
Your results this year have been phenomenal, and this, even before your second place on 23 February last in the tournament $ 5000 (the L.A. Poker Classic, a stage of the WPT event).  How this momentum and this momentum of confidence help you?
I feel really good right now, that's for sure. The beginning of the year is so good for me and I feel that I 'really good run', which is huge for my confidence.

When I came second in the tournament to $ 5,000, I had entered the tournament really confident and strong knowing I could well do and it really is a great help when you feel that you can make all the right decisions.
What are the main differences you see in the way you play, or how people play against you, when you have this momentum and this confidence?
I think it is largely a matter of timing. I do not think I play really more 'loose' or more 'tight'. I just feel that whenever I take a decision, it is good. When you bluff, you get a 'fold', and when you really, your opponent you 'call'.

And when the other players at the table are that your timing is in full in the mile, they are more likely not to play against you. So, they start to play a little more tight against you, which is always good.

With home invasion happened to you, in December, and with all the success you're experiencing now do you believe that these two things are related?
I do not know, it is hard to say. After what happened in December I was about two weeks at home with nothing to do except be with myself. So entering the PCA, I was really focused.

I have not been as focused since the final table of the Main Event of the WSOP in 2010. Obviously, I've been pretty lucky there, but I had a lot of confidence.

I lost my stack so quickly in the event of the PCA $ 100,000 highroller, but I decided to rebuy because I felt really ready for the trip and so focused.

I'm not ready to say that these two events are connected... but perhaps this is karma, who knows?


That is what you have learned from your unfortunate experience in December?
I always try to learn things that happen to me, and this is a good example. Instead of simply crying over what has happened, you learn from it and grow.

This event was really shit, and I do not wish it to anyone, but you have to learn from it and become a better person.

I think it helped me to put some things in perspective on what is really important in my life.

But I feel really relaxed now. I am no longer the champion of the world, and with everything that happened, it made sure to bring out the pressure.


Do you feel that your success this year show that you did your evidence as a player of poker? By the past, we saw the label of 'champion for a day' glued to some players who were never able to regain thereafter.
I always said that I play for myself, and it's true. First I want to prove to me that I am one of the winners. So when I play these highroller event, I want to prove to myself that I can play with these guys.

I do not feel the need to prove me to other people. If my results show I am a good player, while it's a great thing, but my main goal is to know that I can play with all the great players and compete with them.

This is the main reason why I play these great events, but it is also a very good learning experience because the participants are so talented.

I'm a much better player that I was a year and a half ago, and this is the main reason.


You will play in the tournament at 1 million dollars 'Big One' at WSOP 2012 and you have been involved in the promotion of this event. What can we expect the most expensive event in the history of poker?
I'm really excited because this has never happened before an event with a buy-in as high.

There are many businessmen who are going to play this event, so the dynamics should be quite interesting with a mix of the greatest poker players in the world and a whole bunch of rich businessmen.

It will be interesting to see how bluffing his carpet will be useful, since the issue is necessarily going to mean something for all participants.

And the fact that it is for the body One Drop, which I am spokesman, is simply amazing. I am so pleased to be a participant in this event: this is gonna be huge! Lots of fun for a good cause.


How many people are going to play?
There will certainly be more than 40 people. I think that between 40 and 48 players will play, so it's going to be a lot of money for the winner.
---