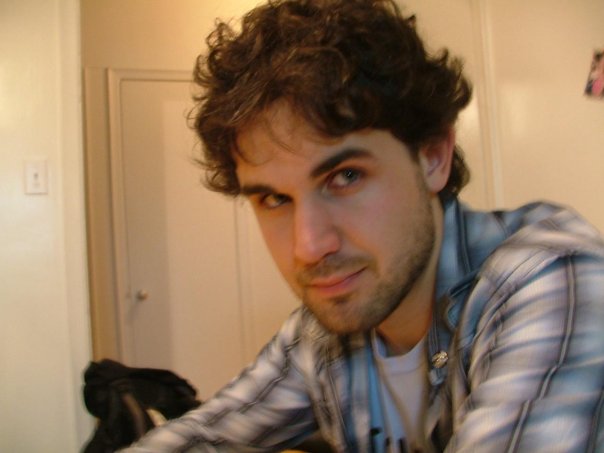 To start, here are the character:
This month, an interview with the most popular coach PokerCollectif, Xavier "Gazou" Justras. With his pen, he was able to get noticed quickly on forums PokerCollectif and quickly became one of the most popular members in the forum. Interview with the man who does not mince his words.
1 - Even if you're already quite known on the forum, could you give us a few words about yourself?
My name is Xavier, I'm 28, I have a baccarat telekinesis. I started playing cards a few years ago. I worked in my field a bit, but when j'me have realized that it would be more pleasant and profitable to play poker, I made the switch. Also, I must say that kinesiology not super good rating in Quebec; Quebec has a much focused on healing mind, that is to say, to pay when they are sick, while kinesiology is a preventive field. People are more or less willing to pay when they are already healthy. In short, I told myself that poker is a great opportunity to travel and live full of new experiences that I could not live if I continued with my salary next to nothing in an unrecognized field.

Poker hand, over time, supporting still poorly variance AND considering the fact that I've always loved teaching, I decided to become a coach poker player more.

That said, I remain a kinesiologist at heart and I like to help people in general and that is why in 2010 I decided to volunteer as a kinesiologist. To make a point, I decided to offer my services as a "handyman". I find that giving money to charities, that's fine, but it does not come "my values." I prefer to give time to be converted into money.

Link http://forum.pokercollectif.com/527123-post1.html

Nobody has contacted me yet to paint their fence or other mundane things such as: pleasebangmywife, by cons, I have helped many people with their diet / workout. It's my business to touch bin kinesiology / life coaching, but j'détesterais not have new challenges. I await your calls / messages! Surprise Me! ; ) Note that I have also helpers in the project, so if I'm not in your city to learn whether there was someone else who could do the job in question for you.


2 - Is this poker still occupies an important place in your life?

Yes and no. I want to play more, but I've always had a big problem with discipline. But then, I try to have a game plan more structured, that is to say to coach as much as possible early in the week, play in week + weekend and make the milk run Sunday (tournaments). J'me have promised 720k hands for 2010 and I'm behind schedule, so I'm gonna have to work extra hard.

That said, I do not want to fall into the trap of literally obsessed by the game and I make sure to maintain a balanced life; a healthy mind in a healthy body! I train at the gym, in addition to playing soccer / tennis / hockey ball. Also, I still read a bunch of stuff and I slap several documentaries and series lost time (in the case of series, + is a waste of time as time slots taken for lost time ...).

I would perhaps also write a blog, but I still do not know what direction it would take. I do not really want to talk about my life as such because it is the area of ​​private and not because I find it particularly interesting, but I would hate to answer general questions (a kind of "Well "), otherwise comment on various situations of everyday life. What seems to me a lot of issues in life where people's reactions are beyond me and I could just feel the shaker to wake them up. Obviously j'reste aware that this is not because their reaction is beyond me it's me who's right and they are wrong, but just to write, there is a way to share me ... finally is really determined form this blog might take. Besides, I'm talking about if people have ideas to offer me.

3 - You seem to me to be a very active and highly respected coach on PokerCollectif. Are you Rene Angelil coaching, that is to say that failure to know how to sing, you form over?

Welllllll hahaha I do not know if the comparison is good. I hope I'm better at poker than him singing, but it is true that I am a better coach than player. That being said, you're aware that René Angélil can sing? Y sang in a band ... (ok, there was pocket!).

But otherwise, it's still true to say that many players "succession" have used my services sooner or later in their journey. Over time, it seems that the forum was associated me "coach who must go to if you are really serious in our approach." I hated it and they have not not wrong anyway! :) J'pense I have a clear focus on practice-pratico, strictly business approach. I teach the player to think as a business and I teach him how to save time in the process.

4 - What do you think are the characteristics of a good coach? Are you taking something new or if you abstracts that you have already learned?

A good coach is someone who manages to synthesize information to make it digestible. Is someone able to understand the challenges of each decision, but also to be able to popularize the student. It is also someone very pragmatic. Of course, it also takes someone who can think "outside the box". If a player wants to learn ABC poker, it may take any ebook poker and recreate patterns indiscriminately. If he wants to play solid poker and suitable for many situations, this is where a good coach can help. Basically, a good coach dévierge people to conventional thinking and structure the minds of players in mind more "libertine"! :)

Regarding my coaching, I do not teach my students to play like me. I'd rather teach them how to optimize each situation. I teach them to understand why and how their actions. My goal is really to structure their thinking, teach them how to be effective in the way they process information. An average player knows which variables are important in poker, a good player knows which variables to use at the right time, the good player knows how to take the right decisions after determining the right variables at the right time. My job is to bring each student at least one step ahead of its initial level!


5 - If you could be as handsome a member PokerCollectif, which would it be?

CRIFF Oh, good question, surely nocturnick! Are all women seeking a package: beautiful voice, beautiful man, postage cheesy songs on Facebook and according to several testimonies of girls bewitched, he has the key muscle.


6 - How do you think the games have changed since 2 or 3 years? Do you think the game is going to change much?

The coming years

Personally, I see it not a good look. I go see my roommate (takechip) who plays NL5k and not always enough tables to play and therefore decided to open tables NL2k. What it just means less money available throughout the pool player and the pyramid of players tends to lose its base. If it continues like this, it means that players will invade the upper limits and lower limits necessarily the average level of the game will be higher, making for smaller profits. The best grinders are those who will have a schedule best suited with a better table selection.

Explanation of the so-called pyramid: More limit is low, there are more players to play to the limit. So if you visually represented pool player at each limit, we would have a pyramid. By definition each time you play against a better player than you, regardless of your hand, you give him money and vice versa. Therefore, the base of the pyramid finance upper floors. The goal of every player is to be located as high as possible in the pyramid without giving + to higher than lower floors are received floors. The problem in the medium term (less than U.S. return) is that whenever the pyramid loses a stage, each player approaches the base (ie less money). It is important to remember that "takechip / Tiltman" of this world, relieve the pyramid of millions every year, which means that to maintain the health pyramid would require new players invest their pockets as much what good players retire.

How the games have changed
Coaching sites have revolutionized the game (hélasssss). Basically, the idea was excellent. Taylor Caby and CardRunners made a god of good job and it was smart on their part saw the profits made with the concept. Unfortunately, once an idea is good, there is still a gazillion people to repeat the winning recipe (to saturation) ... And suddenly, it has become the norm for most grinders watch videos. .. or copy the gestures better than them at their table players. The videos are such that there is a mass education and it's really not good for "Average Grinder". If you ask me the difference with coaching as I do, well, it's simple, I educate a minimum of people in return for a wage. As a human, I guess I look like a heartless not to want the good of my neighbor, but as a business, I have no choice but to be against the teachings of mass . People forget that the advantage a player makes playing poker is somehow the difference between its level and the average level of the players at his table. In short, to increase your profits, or you increase your level of play, or you expect the average level does not increase.

- To answer the "how", I would say that Sizings bcp have improved (although c't'encore a gap for many). The people 3bet and 4bet more small, with a higher frequency and even a monkey which it becomes quite difficult to play 100bb deep. Moreover, the sizing of 3bet and 4bet is an excellent example of why coaching sites have revolutionized the game. Before, Sizings were too big, and when the video began to show smaller Sizings, players have started to do and when the grinders who do not watch videos realized that it worked ... they simply imitated the other until everyone is doing the same thing.

- Also, players are much less preflop errors (tjrs compared to currently 2-3 years).

- The bumhunting also makes the game more difficult because What has less fish available unless you have a good system to sit on before other fishy tables.

- The average level of understanding is higher at the time, then more must adjust to know that value-bet and bluff + thin.


7 - What is the dumbest thing you hast done for money thing?

Technically, buying lotto tickets, no matter where. It's just losing money and it's not smart.

Otherwise, I've studied Anapharm, not that it is stupid in itself, even though I try not rule one day, but as such, there is still a minimum of risk and if there happened to me something seriously wrong with that, in retrospect, I guess I find myself cellar have risked my life for $ 1,500.

Ultimately, the most stupid thing I've done is to gamble at online roulette. After the stupid is that my roll was put at 14,980 on iPoker (jme not remember the amount but you get the idea), I told myself there fak: ohhhh I'm gonna gamble $ 20 to go to a round figure. Obviously, I lose ... Double ... etc.. In time say (about 5 minutes), made j'tais stuck something like 2-3k. I gave it to Black Jack 10 minutes later found PCQ j'me cellar, I lost again 2-3k. I've never replayed this game the devil.


8 - What's your percentage of bluff?

When I coach, relatively high. When I play a little lower. Average: not enough for my taste! I'm gonna remedy that!


9 - How ADVANCE you for years to come at your "career"?

If I can further discipline, I would take the time to learn Omaha. Although the variance is crazy, I think it is too complicated for the average player game increases significantly. In short, I think that making a blitz of intense study, I could increase my level of play quickly enough to exceed the current level of the game and "make sure" a year or 2 + income.

10 - How many lines you're able to Tetris?

My record is 826, I had an old Mac in time, it is on this that I played. Otherwise, I do not know about Nintendo or Super Nintendo / other, I have not played often, probably something like 100-200. J'me just remember that the colors of Nintendo were crying after kek levels. (Eg that jsuis also only be as emotional playing, but I think c'tait intense).


Thank you for the interview Gazou my dear! You can discuss this interview on the forum by clicking the following link: Interview with Gazou007
---