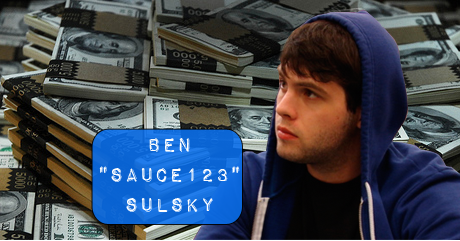 At the beginning of the year, PokerCollectif you informed of major winners and the biggest losers in 2012 (poker online only). The man who was at the head of list of the biggest winners was Ben "Sauce123" Sulsky with slightly more than 3, 5 M$ profit! His best year in terms of earnings, enough to make several jealous. But, all poker players know, poker is a game with a lot of ups and down and as many tops can be pleasant, as the bottom can hurt. Ben Sulsky knows something.
At the beginning of the year 2013, Ben Sulsky has no easy life. Sauce123 lost a large part of the money raised in only a month and a half with $ 636 2,583 flew, making it - and widely - the biggest loser since early 2013! And as if that wasn't already enough wrong, yesterday, he added $ 365,000 to its losses mainly granted to Tom Dwan.
In this regard, you can book article that PokerCollectif had this week: Tom Dwan WINS 2 M$ in 48 hours on Full Tilt Poker tables.
Several reasons may explain this downswing. First, the Pot Limit Omaha is known to be a high variance game, it could be simply ca.
But it could also be the fact that opponents of Sulsky of today are no longer the same as last year. In 2012, Sulsky had won a good portion of his winnings against Gus Hansen and "patpatpanda". This year, Sulsky shares its tables with Tom Dwan, Phil Ivey, Patrik Antonius, Brian Hastings, Phil Galfond and Hac Dang.
Maybe Sulsky simply needs a little time to adjust to his new opponents.
Whatever it is, here is the list of the biggest winners and the biggest losers since January 1:

Tom Dwan: + $654 1,670
SallyWoo: + 1 $585
Viktor Blom: + $572 1,460
Alexander Kostritsyn: + $161 1,486
Kyle Ray: + 1 028 $386
Phil Galfond: + 902 $537
Rui Cao: + $ 898,000 (733,000 on FT) and 165,000 on PS
Ben Tollerene: $ 783 706
The biggest losers:
Ben Sulsky:-$ 636 2,583
Alex Millar:-$ 977 617
Kagome kagome:-$ 911 232
Gus Hansen:-$ 779 490
HAC Dang:-$ 689 325
Phil Ivey:-$ 554 225
Patrik Antonius:-$ 521 983
Andrew Robl:-$ 405 573
Discuss this news on PokerCollectif forums: big downswing for Ben "sauce123" Sulsky
BLOG COMMENTS POWERED BY DISQUS
---