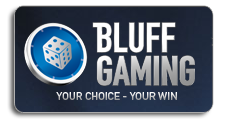 As of today, the players of poker bluffgaming.com room we received a newsletter by e-mail informing them that due to liquidity problems, the BluffGaming.com site would end its operations as of August 31, 2012.
To minimize the losses of players, an agreement was achieved with Enet Poker and was finalized.
ENET Poker will take control of your funds under certain conditions:
-all players funds will be transferred on a skin of Enet before September 1, 2012

-all players can collect 100% of the rake they have generated until the total amount they had on BluffGaming will be clear

-If the player loses all its funds before he could withdraw his funds, he will be able to make another deposit to attempt to remove 100% of the rake that it will have generated

-Once the total amount has been removed, the players will return to their original agreement with their affiliate
-all players must cancel their cashout and transfer their funds into the main wallet BluffGaming
According to the letter sent by BluffGaming, several players in the past few weeks have been chip dumping. If you are taken to the chip-dumping, the poker room Bluff Gaming confiscate you your funds forever. So if you get stuck to the chip-dumping, your account will be blocked and you see ever again your funds.
To proceed, you will need to send an email to This email address is being protected from spambots. You need JavaScript enabled to view it. by including in your message:
Your BluffGaming username
Your name on Enet
The total balance of your account
Once the email is sent, Enet will contact you for you give all the necessary details.
Discuss this news on PokerCollectif forums: BluffGaming ends its operations at the end of the month
BLOG COMMENTS POWERED BY DISQUS
---