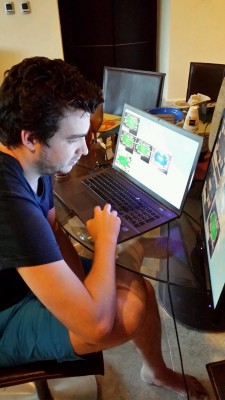 Last Saturday, Chris Moorman wrote in online poker history by becoming the first player to get 10 M$ in earnings of tournaments on the Internet.
September 19, Chris "moorman1" Moorman had announced that it was less than $ 100,000 near the bar 10 M$.
In an interview with Pokernews, shortly before accomplish its objective, he stated:
"Be the first person to reach the 10 million of dollars in online tournament winnings is extremely important for me. I started to play on the net in 2006, and have managed to be continuously effective over these past seven years, so that the game is in perpetual evolution, goes beyond my expectations. »
A week later, it had already exceeded its target by participating including (and winning) a tournament on PartyPoker $ 215.
On this subject he comments:
"I am pleased to have crossed that mark with a victory rather than a series of small places paid. "I hope that I can make a beautiful course in the Main Event of the WCOOP and thus begin the best possible path to the next 10 million.
As his words evidenced, Moorman is a young ambitious man! For now, he plays from his house to the Mexico.
Its nearest competitors will have a lot on the plate if they want to match this feat. To give you an idea, the two players nearest Moorman (Shyam Srinivasan and Jeremy Fitzpatrick) each have a little less than 7 M$ in tournament winnings.
Said Chris love even as much as before poker and feels really lucky to be able to earn a living with his passion. Finally, an interesting statistic on Moorman performance: when it reaches the cashes, 10% of the time he finished in the top 3. According to PocketFives, Moorman won 223 online tournaments, finished second 145 times and 177 times third on 5856 tournaments in which he made money.
Discuss the performance of Chris Moorman on PokerCollectif forums: Chris Moorman exceeds 10 M$ in tournament earnings
BLOG COMMENTS POWERED BY DISQUS
---