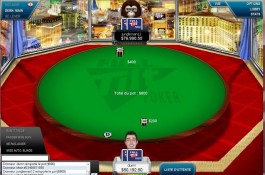 After Patrick Antonius , it turn to Daniel Cates, alias "jungleman12 " of wanting to beat Tom Dwan cards.

This announcement was made on the blog of Durrrr himself. The choice of the variant has been left to Cates who chose the Hold'em without limits, variant where it is best.
The first session was played in the night of 26 to 27 August last on 4 tables $ 200 / $ 400 on Full Tilt Poker. The total duel will be spread over 50,000 hands as for the duel of Patrick Antonius. The "Run It Twice" option will be enabled for the duration of the confrontation.

During this session, 1651 hands have been played and Durrrr won a little over $ 130,000.

The biggest pot won by Dwan when both players went all-in on a flop of 9s - 5 d - 2s. Cates had top pair with 6 h - 9 h and Dwan 2 overcards more a flush draw with As - Ts. The two draws (turning point + River) have given the best hand Dwan who was awarded a $ 91,600 pot. "" After the session, Durrrr announced in the chat: "i won't 129888.5 over 1651 hands". What Cates replied "130152,25".

The rules are the same as for the challenge with Patrick Antonius. 50,000 hands hands must be played and Dwan will be 1. $5M if it is losing $ 1 or after this challenge and will receive $ 500,000 if he is winning.

This second duel starts while his first duel with Patrick Antonius is not even finished. Note that Durrrr has an advance of 2 M$ on Antonius and remains approximately 10,000 hands to play.
Discuss this news on the forum by clicking the following link: "Durrrr vs. "Jungleman12: second Durrrr challenge "
BLOG COMMENTS POWERED BY DISQUS
---