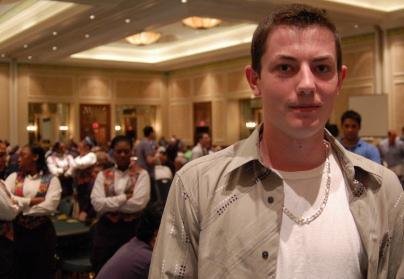 Earlier yesterday, Daniel "jungleman12" Cates has increased his lead over Tom "Durrrr" Dwan as part of the second chapter of the "Durrrr Challenge" Jungleman12 is now ahead by $ 692,000 after 6,820 hands played (less than 15% of challenge completed).
Jungleman12 and Dwan played a short session of less than 1000 hands Monday afternoon session at which Jungleman12 got away with a gain of 173k. Durrrr then decided that it was not a good day for him and leave quickly. Dwan had yet had a good start against Jungleman2 earlier this week, starting the challenge with an advance of $ 130,000 during the first 1,651 hands. Unfortunately for Durrrr, jungleman12 completely dominated since, earning about 820k on the following 5000 hands.
Although the day is completed on a losing score for Dwan is still the one who won the biggest pot of the session:
On board "Kh-8d-3c-Th-2c", while everything was quiet before, Dwan and Cates have started a war recovery. They eventually ended up all-in and Dwan winning 132k with a set of ten.
If Jungleman12 wins on Dwan after 50k hands, he will receive an additional $ 1.5 million from Dwan; if Dwan can come back and win on Jungleman12 over the same period 50k hands, then he will receive $ 500,000 from Jungleman12. These amounts are in addition to all that has been earned during this challenge.
Recall that in the first Durrrr Challenge against Patrik Antonius, the latter had a lead of about 500k at some point while in the challenge this time, Antonius lost more than 2 million at the expense of Tom Dwan then that there are less than 10,000 hands played between two players.
Discuss this news on the forum by clicking the following link: Durrrr vs. Jungleman12
BLOG COMMENTS POWERED BY DISQUS
---