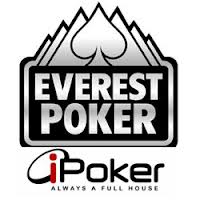 A few weeks ago already, PokerCollectif had spoken you of Betclick Everest Group would join the iPoker network. This news is now official. In a press release of September 6, 2012, could read: "Betclick Everest Group, first group private Paris France online, announced its agreement with Playtech to iPoker, 1st global poker network online. This new agreement complements existing agreements with Playtech which already provided to Betclick Everest Group of technology platforms of poker Expekt.com and Betclic.it under its licence in Italy".
Recall that at the end of the month of July, Betclick had bought the entire share capital of Everest Poker. Their union now with Playtech (iPoker) complete their reorganization, consolidation and cost reduction strategy. Everest Poker had 145 million of losses over 2 years at the global level and traffic declined from week to week.
With regard to the french market: "Betclick and Everest will continue in France to share their common network liquidity while improving the structure of the rake collected from the players. On other European markets, the very important liquidity of the new iPoker network will represent for gamers of Betclick Everest Group improvement in the gaming experience. Betclic-Everest Group will now concentrate on the attractiveness of its promotional offers and new concepts of tournaments".
MOR Weiser, CEO of Playtech adds "Playtech is delighted with Betclic-Everest Group decision to join the iPoker network on its main markets. The french market remains a priority market for us. We are convinced that the association of Betclick Everest Group, one of the leaders on the french market operators, to our technology solutions, strengthens our strategy on regulated markets. This partnership, which extends beyond the France, will benefit our two groups who will receive a greater liquidity, advanced technology and closer relations".
It is difficult to know whether or not Everest Poker will join the main subnet recently formed and consisting of five larger rooms on the iPoker network.
Nevertheless, the traffic of Everest Poker is currently about 20% of that of the iPoker network. It is therefore likely that the poker room happens to meet the new criteria to be part of the main subnet.
Discuss this news on PokerCollectif forums: Everest Poker officially joined the iPoker network
BLOG COMMENTS POWERED BY DISQUS
---