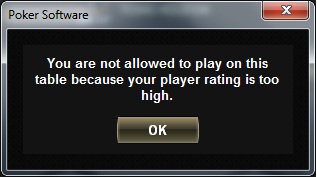 After Bodog who said earlier that they would only offer 'anonymous' tables to protect casual gamers, here comes that Everleaf decides to turn to take measures in order to protect those same players in order to protect the balance between the winners and the losers players.

The Everleaf network, which has 125 rooms online poker, took the decision to ban the winning players on some tables. Setting the limit of €750 per week gain (cashgame only), players who have reached such gain will receive a pop up saying "You are not allowed to play on this table because your player rating is too high" ("free translation: you are not allowed to play on this table because your ranking is too high").

In addition, losing players will receive, meanwhile, a similar warning when they want if sitting on a table full of players with a ranking higher than them. This player may then decide to either ignore the warning and play on this table, either find another table with players whose ranking is lower.

The system will operate on a weekly basis. The results will therefore reset to zero every week (on Sundays at midnight). All players who have achieved the € 750 can then if sit down again at all the tables until they reach again the €750.

Several players have expressed their discontent following this new regulation of the Everleaf network. A representative of Minted Poker, one of the sites of the Everleaf network, announced that only 0.004% of players will be affected by this measure, but these 0.004% are responsible for more than 50% gains on the entire network.
Discuss this news by clicking the following link: Everleaf prohibits winning players on its cashgame tables.
BLOG COMMENTS POWERED BY DISQUS
---