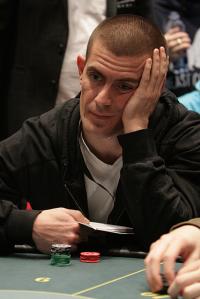 Gus Hansen is one of the most recognizable in the world of professional poker names. He is known for his success in live tournaments and his particular style of game that intimidates opponents. The Danish 36-year professional players since 1997 and former backgammon player, had many television appearance, particularly in the context of the World Poker Tour (he won 3 times).
Despite his success in the tournament and in the business world (Hansen founded the site PokerChamps.com, which was then sold to Betfair for U.S. $ 15 million in 2005 and also has shares in Full Tilt Poker ), it does not seem to replicate its success in cash games.
Since 2002, Gus Hansen won a total of $ 7.2 million in tournament, including a win at 1.3 million Aussie Millions Championship in Australia in 2007 It has a roadmap particularly interesting. Ranking of all time, only 23 players pros can brag of having more wins than him in the tournament. By cons, it would have lost a total of 7.7 million online since. Worse: Hansen has lost more money online over the past three years that he won during his career as a professional player.
Hansen has lost nearly 800k just this year on the online tables, nearly 500k in the last two weeks. It also has the annoying habit of paris sports and be a loser. Some try to predict when Gus Hansen will be penniless. On several occasions since 2005, means false rumor that he would have lost everything, he had to borrow from Doyle Brunson 4000000 (rumors in 2005), etc.. These rumors are proven false, but more and more people are wondering when Gus Hansen lose everything. This scenario would be against by surprising her good business decisions made him earn tens of millions!
How does a poker player as impressive can be so bad in cash games, both online and live? Some attempt an answer by saying that Gus has mastered the art of intimidating his opponents face to face while in line, something he can not do online. Others respond that its very loose and aggressive style is simply not a winning formula in the parts where the stacks are deeper ..
Despite some winning sequences (as in October 2008 when he won more than 3 million), the trend is downward for Gus Hansen, to the delight of Phil Ivey, Tom Dwan (Durrrr), Phil Galfond (OMGClayAiken), Di Dang (Urindanger) and Patrick Antonius of this world ...
Discuss this news on the forum by clicking the following link: Gus Hansen is it the worst cash game player in the world?
BLOG COMMENTS POWERED BY DISQUS
---