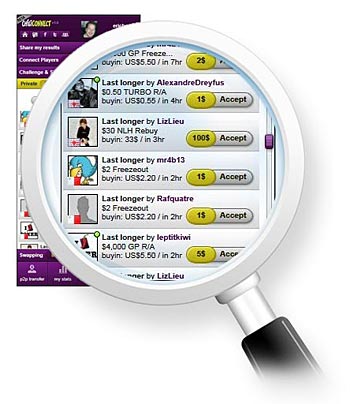 Recently, the poker site online ChiliPoker (founded in 2006 by Alexandre Dreyfus), who was one of the first to receive its license from the ARJEL, made an up-to-day interesting of its software.

Now you can make the 'side bets' (bets on the results of an event), swap (Exchange one % of his tournament with another player), publish your results so that your friends can see them, make bets with your friends on the "last longers" (the last player out of the tournament won). You won't have to manage all transfers because the application will take care to do it at your place. It is also something very useful when you do not trusted 100% to the person with whom you bet. You can also make the "cross booking" (exchanging a % of its profits with friends). All this with Chiliconnect.
Specifically, Chiliconnect is an additional module that opens when you launch ChiliPoker (see video below for details) with several options. In this module, you will also have a "buddylist", that is, your list of bad players against whom you plan to make lots of money.

You can also log on Facebook with this new module. When you are logged into Facebook, your tournament results will be published on your page (or on your Twitter, if you prefer). If this option do you not like, you do not connect your ChiliPoker account to your Facebook account.

Commenting on this new mise-à-jour, Alexandre Dreyfus tells us: "we have decided to add this social experiment into a single system online innovative real money. More than ever, we respect our motto "Spice Up Your Game" ".

It is worth noting that ChiliConnect is not yet available on its platform in .fr, but only in .com. It will take the ARJEL gives his agreement for this new-update. The time is not yet known. Some source indicates that this novelty has not yet been submitted to the ARJEL for study. I only hope that the argument of possible money-laundering is not raised.

PokerStars has launched some time ago HomeGames (who were an excellent idea). Today, ChiliPoker launches ChiliConnect. Short, online poker is evolving very rapidly lately. For the better, fortunately.

To discover all the novelties of this update, you can watch this video posted on DailyMotion (in English):

http://www.dailymotion.com/video/xhz6jq_chilipoker-chiliconnect-v1-0-English-presentation_videogames#from= embed
You can also register on ChiliPoker and take advantage of a generous bonus by clicking the following link: registration for ChiliPoker

Discuss this article on the forums of PokerCollectif: Update interesting at ChiliPoker
BLOG COMMENTS POWERED BY DISQUS
---