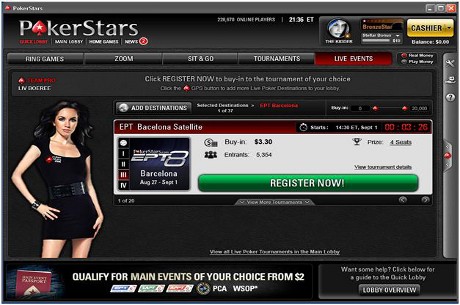 It is during the PokerStars VIP Club Live Event that Lee Jones presented the new version of the PokerStars software.
This version named "PokerStars ' 7 is currently in testing phase. It will be available in beta in the coming weeks.
The new software should be made public soon. What seems to be the key words for this new version of the software are "to facilitate navigation for recreational players". The novelties are not unanimous course (see link below).
Jones began his presentation by explaining that it was the first new PokerStars software in 10 years, but that in 10 years PokerStars has learned a lot about the way in which players use the lobby.
According to his words, PokerStars has added tons of new features to software in 10 to the delight of advanced users, but for the misfortune of recreational players who will lose often. Long lists of options in drop-down menus belong to the past. One has only to thought of such a simple option as the deck in 4 colors (with the blue diamonds and green clubs). This simple option was not easy to find by pass it. Now it wants to ensure that each option is easier to find.
Options to choose its buy-ins/limits are simplified, PokerStars is being made that recreational players do not want to know if they play the $0.05/$0.10 or at $0.15/$0.25, but that they simply want a seat to play with their $ 10, $ 25, $ 50 or whatever. It's not all players which include the number of big blind minimum and maximum that can bring on a table. All players are not (thank God) seasoned regulars.
Among other features, there is what Jones called 'App Bar'. This is a toolbar that users can configure to customize their lobby. This bar is designed to ease navigation. Everything should be easier to find (auto-muck, 4 colors deck, etc).
Therefore, one speaks of:
a simplified registration process
a filter of tables in the lobby;
less than pop up;
a quick seat function.
Among the other new features of the software that is currently in testing phase, a particular attention: the function "Run it twice".
The function is now active (in beta test) and players wishing to take two turns or two rivers can activate the option on a permanent basis, on a particular table.
The "run it twice" function ensures that when you're all-in on the flop for example (say top pair against a draw to the flush), you'll see 2 turns and 2 rivers. The pot will be divided into 2. For the "run it twice" works, it is necessary that the two players involved in the hand has ticked the box "Always". This is a way to reduce the variance.
To see an example in the work of "run it twice" or rather "run it 4 times", here's a classic between Robl and Antonius
For more details about the software, you can view the thread created on the Twoplustwo forums: PokerStars presents his version 7 of the software of PokerStars.

Discuss this news on PokerCollectif forums: Lee Jones presents PokerStars version 7
BLOG COMMENTS POWERED BY DISQUS
---