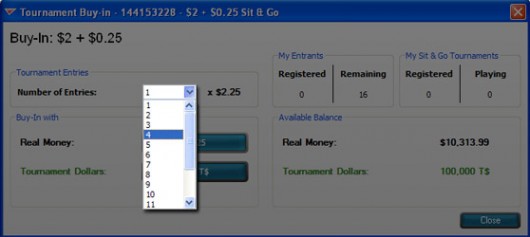 A year after he launched the revolutionary "Rush poker", Full Tilt innovates again by launching tournaments in multiple entry. What is it?
It is not a resume tokens when is removed as for the case of tournaments rebuys, but well multi - tabler in the same tournament.
Once you register, you can take up to 6 inputs for the same tournament. In this tournament, you can also do rebuys, in the form of single entry. You'll have a lapse of time to do so. In other words, you take an entry, you get out and you have the chance to add another entry (up to a total of 6) during the allotted time.

You won't be able to have 2 seats on the same table. When the force of things will ensure that you will have 2 seats on the same table, your stack will be merged. You will be sitting when you had the smallest stack.
On the Full Tilt Poker website on this subject: "you have three entries and there are three tables in a tournament multiple entry. A table ends, so your entry on this table will be merged with your entry that has the shortest stack and tokens of these two entries will be combined into a single carpet. »
If you have been lucky enough to do well with your 4 inputs for example and you arrive near the final table, your 4 stacks will eventually be merged, this will give you a considerable advantage and that will capsize the dynamics of the table!
Multiple entry tournaments are currently available only on FullTilt.com and not on .fr, but there is no reason to think that they will never be.
Disctutez of this article on the forums of PokerCollectif: multiple entry at Full Tilt Poker tournaments.
BLOG COMMENTS POWERED BY DISQUS
---