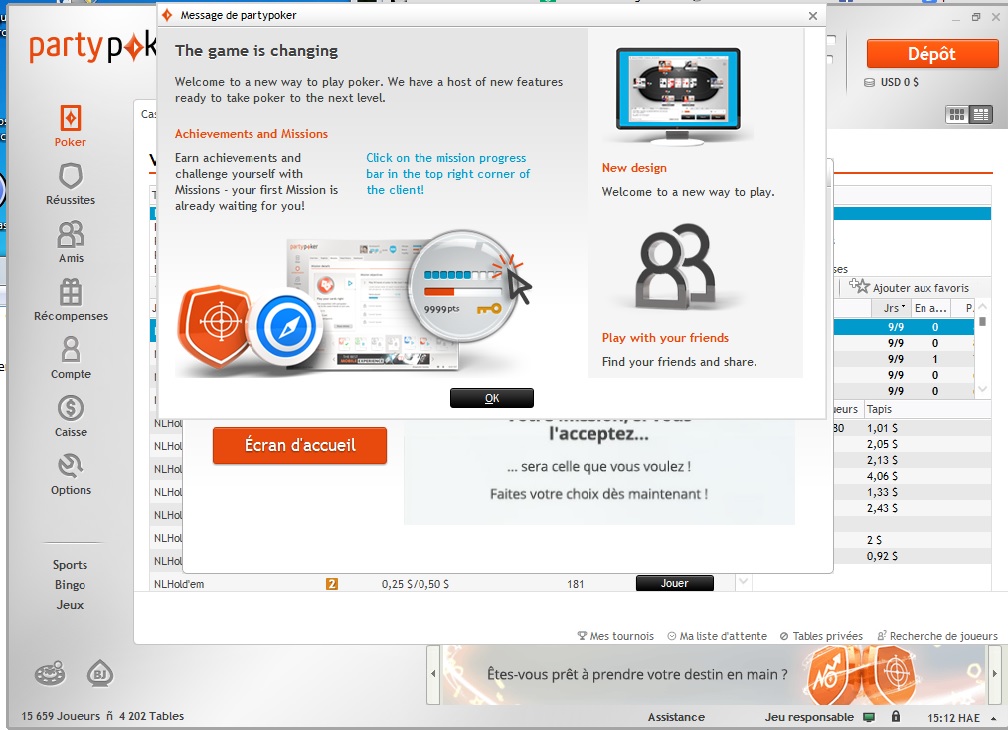 PartyPoker players will have already noticed it, a few days ago already, the former largest online poker room now has a new software. On the menu, some new, but until recently, most problems too. Several players complained of "bug" and "freeze" of the software (especially for the .fr and several french players quickly reported dissatisfaction).
PartyGaming has even had to respond:
"[This operation] was largely due to the .com of PartyGaming activity. Some already know, the screens turn on English forums, the software will know a sure facelift and this operation was therefore in this context. The .com in priority for PartyGaming, which is understandable, the new software will happen only in a second step on .fr. Many changes will be made in the coming weeks or months, including the arrival of the Bwin players on the network. This unfortunately causes few interruptions and please accept our apologies."
What strikes most in seeing the new software is firstly its color. The intense green left its place to a more discreet white. In addition, several innovations are directly inspired social networks and social gaming, in the image of the possibility to create a friends list and receive notifications based on their presence and their results.
There are also trophies and symbolic rewards based on your habits of games, novelty inspired games on social networks that should attract recreational players.
Other new features include Missions. Missions give you goals to be achieved and allow you to try new games and to improve your level.
It will also be at stake some additional prizes that you will receive after completing your Missions: from cash, tournament tickets, bonuses and much more.
A Mission consists of a series of goals you want to achieve. Once all the objectives achieved, your Mission is accomplished... and you can also receive a reward.
For the release of its new software, a new ad has been created:
For more details on the new platform, you can visit the PartyPoker and enjoy a deposit bonus for new players at 100% / $ 500 by following this link and indicating the PARTY2014 code: 100% / $ 500 deposit PokerCollectif for new players bonus
Discuss the news of the PartyPoker software on PokerCollectif forums: new software for PartyPoker
BLOG COMMENTS POWERED BY DISQUS
---