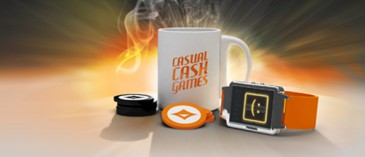 As of today, Party Poker this its tables "casuals" or "relax" could be translated into french.
What is a "casual" table?
The casual tables are tables designed for recreational players. Anyone can sit there, but they are designated to protect recreational players of the winning regular. In what way? As we have said, everyone can take a seat on a relaxed table, but when you're there, you can no longer play other tables. These tables are for players who don't want to play a table at a time and as almost all regular multitablent, you may soon meet them.
What are the advantages and disadvantages of these tables?
There are advantages and disadvantages to this new formula. Obviously, very few regulars will be able to operate these players since it will be rare to see a regular sacrifice his other 12 tables to play 1 single table, but on the other hand, players on the 'casuals' tables shall bear the label "recreational players".
For some regulars, it could be the opportunity of "bumhunter" (target weak players to exploit").
In other words, a 100nl player could very well say (for a few hours a week) it will be concentrated at a single table of NL400, surrounded by recreational players. It cannot play a table, but playing above, it will decrease the gap of his hourly rate. He will play less tables, but a limit superior (so in theory, more pay) and with a lower competition.
For now, this hypothetical scenario is not likely to happen since the 'casuals' tables are available only on specific limits (and low limits), but if ever the system gains momentum, it might well attend this kind of scenario.
Party Poker wants to protect recreational players
According to Party Poker tables "casuals" are there to "create an environment more relaxed for those who do not want to rub shoulders with the grinders to high intensity all the time".
Recall that last September, Party Poker had redesigned its software with the priority to recreational players. This new innovation goes in this direction.
Although this is not necessarily the ones who are the most profitable for the poker sites (they are less than the regulars who play 24 tables 8 hours per day for example), it is them who operate the poker ecosystem and attracting regulars and other recreational players. This is why Party insists so far to protect the balance of the ecosystem.
It is not known yet to what other limits these tables will be available, but Party should make the announcement within a few months. For the moment, it is only that of a trial period.
What do you think of the relaxed tables? As a regular, it will play you?
You can discuss on PokerCollectif forums: PartyPoker launches today its "casuals" tables
BLOG COMMENTS POWERED BY DISQUS
---