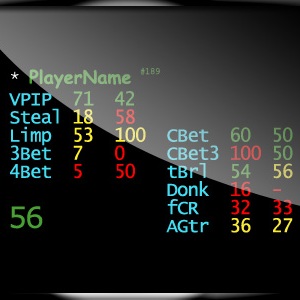 The months passed, PokerCollectif spoke you of the war that PokerStars has decided to conduct against the site of datamining, PokerTableRatings.
For the moment, PokerStars took to PTR, but she is willing to go to war against other sites of its kind (Poker Edge, Poker Rating and Sharkscope). It is for this reason that these sites, like PTR, have decided to make some changes. They offer (or will soon offer) the choice to their players to let public information hoping that PokerStars be pleased with these new measures.
In the words of PokerStars, the fight against datamining sites will of either and it serves to protect the less experienced players. PokerStars considers that data mining sites are an advantage prognosis for beginners who do not know these tools or do not use.
In this regard, Paul Telford, Director Chief legal Council of PokerStars says:
"Our players have consistently expressed their concerns about these third parties that access and make public the individual data without their explicit permission. The host of Poker Table Ratings, the largest provider of this type of data, has accepted our request to terminate the hosting of PTR".
Despite the fact that PTR no longer displays the information from the players at PokerStars on their site, they still continue to do the datamining (to sell including hands).
In this regard, Lee Jones says:
"We are on this case for the past two or three years - this is not new. We will have their new host. The essential is that, as poker players as well as the majority of the poker community, we agree that the uncontrolled distribution of the results of online players is bad for business and are in violation of the terms of use of PokerStars. We will take all the necessary measures - both technical and legal - to prevent to continue".
For this reason, we are entitled to ask us on the trackers such as Hold'em Manager and PokerTacker. While it is true that a site like PTR can give us valuable information, it is also true (if not more) than a software such as Hold'em Manager gives us invaluable information. The information gathered by the software are still more precise and pointed that the information that can be found on the sites of datamining. Is this to say that the HUD will soon be the target at PokerStars? What is the confidentiality of the information of its players at
PokerStars will go up there?
Discuss this news on PokerCollectif forums: PokerStars: towards the prohibition of trackers?
BLOG COMMENTS POWERED BY DISQUS
---