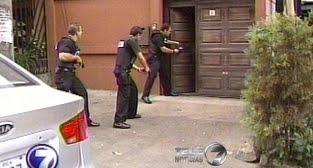 A few days ago, PokerCollectif had spoken you of a rumor according to which a decent had been conducted on the premises of Absolute Poker to Costa Rica.
Today, we aprenons of other details of this story.
Last Friday, the Organismo Investigación Judicial (OIJ), the equivalent of the FBI in Costa Rica searched the premises of Innovative Data Solutions (IDS), local in which the Cereus (Absolute Poker and UB) network operated. According to rumors, PokerStars was also concerned by the investigation. According to several sources, Scott Tom and Brent Beckley, the co-founders of Absolute Poker, and Olman Ernieus, the spokesperson of IDS were sought.
Reason to believe that this raid was connected with the events of "black friday".
Recently, Blanca Games, the parent company of the Cereus network brought an important nuance: "we want to correct the rumors that spread in the poker community, according to which the events of Friday had a link with the recent convictions by the DOJ. In our opinion, this is not the case. These searches were in another case involving a collaborative approach to locate and apprehend Ernieus, Tom and Vargas to ask them about a case of money laundering".
The IJO would have also done a search in the PokerStars Office to Costa Rica and were temporarily sending employees home.

This news was confirmed by "PokerStars Steve" on Twoplustwo, his real name, Steve Day, a representative of the PokerStars room: "it is true that the IJO is currently in the office of the Costa Rica PokerStars and that they temporarily sent employees home. PokerStars hope that his office will return to its normal operations shortly".
Later in the day, "PokerStars Steve" confirmed that the employees were back in the post and that it was 'business as usual'.
The problem is that, according to ' Dr. Pauly ' blog,it would be an error and the IJO would be wrong address. According to its sources, the IJO were seeking people who have nothing to do in this story and that the IJO would be left without entering anything before taking coffee with employees. What is the scenario of a film or reality? It seems to be the truth!
Other details in this story will be sent to you. In the meantime, you can discuss this news on PokerCollectif forums: Search at PokerStars in Costa Rica by mistake?
BLOG COMMENTS POWERED BY DISQUS
---