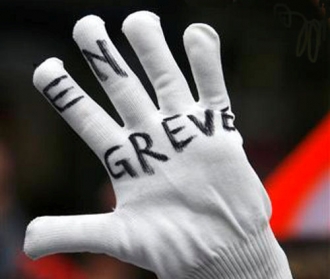 PokerCollectif recommends its players to massively support the movement to strike at Party Poker.
Yesterday, we told you of changes on PartyPoker concerning the method of calculation of the rake and the increase of the ceiling of rake taken by hand in certain limits. Although the change in the method of calculation of the rake is judged as being acceptable and in the lineage of different networks (since two recent years, "contributed" method seems to become the norm and there is very little site always using the "shared" method), the increase of the maximum rake taken by hand is quite unacceptable. NL600 players are thus collected rake maximum spend from $ 3 to $ 5.
Unworthy, players have quickly organized to begin yesterday, a strike since midnight. Many players sit at tables in NL600, but simply refuse to play there. Despite the change at the level of the rake structure will be effective from midnight tonight, the movement seems to take more and more magnitude and players trying thus to revisit its decision Party Poker. Since the last 12 hours, the players are massively seated at the tables of NL600 (nearly 90 tables are open at the time of this writing) and the players refuse to play there. Only 2 of the 90 tables have action: on one of them, 5 6 players participating. On another, only 2 players on the 6 play while the other four are sitout.
This movement is not unlike the many strikes that have been organized on the .fr sites approved by the ARJEL. French players had then massively protested against the astronomical rake collected from sites approved to virtually paralyze all the action. Many sites had then been obliged to negotiate directly with the players to review the different systems of rewards and the rake structure.
PokerCollectif invite all Party Poker players to take part in the strike. Each day, players pay thousands of dollars in rake as PartyPoker online poker rooms. A low rake is essential to the maintenance of the ecosystem of the poker. Join so all the sit-out massif in order to show your displeasure.
You can comment on the new on the forum by clicking on the following link: strike on Party Poker - Sit out massive organized in NL600.
BLOG COMMENTS POWERED BY DISQUS
---