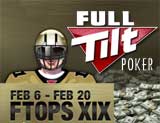 The regulars know; the Full Tilt Online Poker Series (FTOPS) is a prestigious series of tournaments online on Full Tilt Poker which returns each year. 6-February 20, will take place the 19th edition already in this series. During those 2 weeks, you can participate in 45 tournaments (see below) to touch your share of 22 millions of dollars guaranteed during this series. Several variants will be available in the usual, including "Rush Poker" tournaments and tournaments with multiple entry.
The main event, or Main Event if you prefer, will take place on Sunday, February 20. The buy-in for this tournament will be $ 600 + $ 40 and secured grants total has already set at $ 3 million, which makes it one of the biggest tournament online! The particularity of this tournament is that there will be multiple entry. So you can multi - tabler inside of the tournament. If ever this tournament you are interested, but you do not necessarily $ 640 to invest, please note that Full Tilt Poker offers satellite for this tournament, with buy-ins as low as $ 17. See the lobby of the site to find the other satellites in this tournament. We would also like to clarify that each tournament FTOPS XIX has satellite tournaments to get there.
For a little less well-off players, miniseries FTOPS will take place from Sunday, March 6. It will be the same tournaments than the FTOPS XIX, but with a buy-in approximately ten times lower. The guaranteed total prizepool will be $ 8 million. For more details on the mini-FTOPS, you can visit the following address: http://www.fulltiltpoker.com/fr/mini-full-tilt-online-poker-series
If you do not yet have account on Full Tilt Poker , you have to click on this link and create an account. You can thus enjoy a 27% rakeback.
Disctutez of this article on the forums of PokerCollectif: The FTOPS XIX since early February on Full Tilt Poker

Schedule of FTOPS XIX
FTOPS XIX event # 1 - NL Hold'em
Date: Sunday, February 6, 2011
Time: 16:00 et
Buy-in: $200 + $16
Prize pool: $1,000,000

Event FTOPS XIX # 2 - PL Omaha Hi / Lo
Date: Monday, February 7, 2011
Time: 14:00 et
Buy-in: $200 + $16
Prize Pool: $200,000

FTOPS XIX event # 4 - NL Hold'em 6-Max
Date: Monday, February 7, 2011
Time: 21:00 pm et
Buy-in: $1000 + $60
Prize pool: $1,000,000

Event FTOPS XIX # 5 - PL 5 Card Draw 6-Max
Date: Tuesday, February 8, 2011
Time: 14:00 et
Buy-in: $200 + $16
Prize pool: $75,000

FTOPS XIX event # 6 - NL Hold'em ' (4xShootout 6-Max Turbo)
Date: Tuesday, February 8, 2011
Time: 5:00 pm et
Buy-in: $300 + $22
Prize Pool: $300,000

FTOPS XIX # 7 - HORSE event
Date: Tuesday, February 8, 2011
Time: 21:00 pm et
Buy-in: $200 + $16
Prize Pool: $100,000

FTOPS XIX event # 8 - NL 2-7 single Draw (6-Max)
Date: Wednesday, February 9, 2011
Time: 14:00 et
Buy-in: $500 + $35
Prize Pool: $100,000

FTOPS XIX event # 9 – PL Omaha (Poker Rush - knockout tournament) Hi
Date: Wednesday, February 9, 2011
Time: 5:00 pm et
Buy-in: $240 + $16
Prize Pool: $250,000

FTOPS XIX # 11-7 - Game event
Date: Thursday, February 10, 2011
Time: 14:00 et
Buy-in: $300 + $22
Prize Pool: $150,000

FTOPS XIX event # 12 - NL Hold'em (Super Turbo Rush Poker)
Date: Thursday, February 10, 2011
Time: 5:00 pm et
Buy-in: $207 + $9
Prize Pool: $300,000

Event FTOPS # XIX 13 to 7 Card Stud Hi / Lo
Date: Thursday, February 10, 2011
Time: 21:00 pm et
Buy-in: $200 + $16
Prize Pool: $100,000

FTOPS XIX # 14 - Hold'em event' (1 Rebuy + 1 Add-on)
Date: Friday, February 11, 2011
Time: 14:00 et
Buy-in: $200 + $16
Prize Pool: $500,000

# 16 - Razz FTOPS XIX event
Date: Friday, February 11, 2011
Time: 21:00 pm et
Buy-in: $300 + $22
Prize Pool: $100,000

FTOPS XIX # 17 - PL Omaha Hi (6-Max) event
Date: Saturday, February 12, 2011
Time: 14:00 et
Buy-in: $500 + $35
Prize Pool: $350,000

FTOPS XIX event # 18 - NL Hold'em (Rebuy)
Date: Saturday, February 12, 2011
Time: 16:00 et
Buy-in: $100 + $9
Prize Pool: $500,000

FTOPS XIX ° 20 - NL Hold'em event'em (Turbo Rush Poker)
Date: Saturday, February 12, 2011
Time: 18:00 pm et
Buy-in: $200 + $16
Prize Pool: $400,000

Event FTOPS XIX # 21-2-7 Draw Limit Triple (6 - Max)
Date: Saturday, February 12, 2011
Time: 21:00 pm et
Buy-in: $300 + $22
Prize Pool: $100,000

FTOPS XIX # 23 - NL Hold'em event' (Rebuy)
Date: Sunday, February 13, 2011
Time: 16:00 et
Buy-in: $150 + $13
Prize Pool: $800,000

FTOPS XIX # 25 - HA PL (6-Max) event
Date: Monday, February 14, 2011
Time: 14:00 et
Buy-in: $200 + $16
Prize Pool: $150,000

FTOPS XIX ° 26 - NL Hold'em event'em (Turbo Rush Poker)
Date: Monday, February 14, 2011
Time: 5:00 pm et
Buy-in: $200 + $16
Prize Pool: $350,000

FTOPS XIX ° 28 - PL Omaha Hi (Rebuy) event
Date: Tuesday, February 15, 2011
Time: 14:00 et
Buy-in: $100 + $9
Prize Pool: $300,000

FTOPS Event # 29 XIX - NL Hold'em (tournament Cashout Turbo)
Date: Tuesday, February 15, 2011
Time: 5:00 pm et
Buy-in: $200 + $16
Prize Pool: $100,000

FTOPS XIX # 31 - NL Hold'em event' (3xShootout)
Date: Wednesday, February 16, 2011
Time: 14:00 et
Buy-in: $500 + $35
Prize Pool: $350,000

Event FTOPS XIX # 32 - Limit Hold'em (Poker Rush)
Date: Wednesday, February 16, 2011
Time: 5:00 pm et
Buy-in: $200 + $16
Prize Pool: $150,000

FTOPS XIX event # 33 – NL Hold'em (6-Max Rebuy)
Date: Wednesday, February 16, 2011
Time: 21:00 pm et
Buy-in: $300 + $22
Prize pool: $1,000,000

FTOPS XIX # 34-10 - game (6-Max) event
Date: Thursday, February 17, 2011
Time: 14:00 et
Buy-in: $1000 + $60
Prize Pool: $200,000

FTOPS XIX # 35 - PL Omaha Hi Up leaders event
Date: Thursday, February 17, 2011
Time: 5:00 pm et
Buy-in: $300 + $22
Prize Pool: $150,000

Event FTOPS # XIX 36 to 7 Card Stud
Date: Thursday, February 17, 2011
Time: 21:00 pm et
Buy-in: $200 + $16
Prize Pool: $100,000

FTOPS XIX event # 38 - NL Hold'em (Super Knockout Turbo)
Date: Friday, February 18, 2011
Time: 5:00 pm et
Buy-in: $515 + $20
Prize Pool: $400,000

Event FTOPS XIX # 39 - Limit Omaha Hi / Lo
Date: Friday, February 18, 2011
Time: 21:00 pm et
Buy-in: $200 + $16
Prize Pool: $150,000

FTOPS XIX event # 40 - NL Hold'em (6max Ante from start of the two day event)
Date: Saturday, February 19, 2011
Time: 14:00 et
Buy-in: $2000 + $100
Prize pool: $2,000,000

FTOPS XIX # 41 - NL Hold'em event' (Rebuy Rush Poker)
Date: Saturday, February 19, 2011
Time: 16:00 et
Buy-in: $100 + $9
Prize Pool: $600,000

FTOPS XIX event # 42 - NL Hold'em Heads Up
Date: Saturday, February 19, 2011
Time: 5:00 pm et
Buy-in: $500 + $35
Prize Pool: $400,000

FTOPS XIX event # 44 – NL Hold'em (Knockout 6-max)
Date: Sunday, February 20, 2011
Time: 14:00 et
Buy-in: $240 + $16
Prize pool: $1,000,000
BLOG COMMENTS POWERED BY DISQUS
---