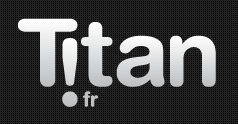 Bad news for online poker: it will be impossible to connect to the Titan.fr Hall from July 30. This bad news follows the upcoming closure of the poker ChiliPoker.fr room which cease to come July 31.
In reading this new, on obviously the question arises of the availability of our funds. If you have verified your account (by sending the requested identity papers), your funds will be sent automatically into your bank account. If you have not yet validated your account, it is more than ever the time to do it.

As of today, Titan has sent a letter to all its players: "we wish to inform you that Titan.fr will permanently close its doors July 30, 2012. After this date, you cannot connect to the Titan.fr software".
After this date, the accounts will not be transferred, they will be simply closed. For what is ChiliPoker.fr players, you can note that your account will be transferred to TurboPoker.fr.
On the homepage of Titan.fr one could read:
Dear player,
Titan.fr has decided to cease his activity.
You will have access to your account until July 30, 2012 so that you can withdraw the funds which will be.
For players who have already checked their account:
Please remove all of your balance prior to July 30, 2012, after which it you will not be possible to access your account. Funds not removed after that date will be automatically transferred to the bank accounts of the players.
For players who have not verified their account:
In order to make the withdrawal of your balance, please send as soon as deadlines the following documents [RIB and identification] by email at This email address is being protected from spambots. You need JavaScript enabled to view it..

Things were going very well for Titan.fr. A simple example, the tournament Sunday to buy-in € 50 guaranteed once 25,000 euros in prizes. Then 10,000 euros and recently, 3000 euros. Remember also that the team of pros had disappeared last May.
In closing, it is worth noting that the iPoker network has the intention to adopt a new policy of segregation. She explained: "iPoker rooms that will have their players separated from the rest of the player base will be determined by a scoring system. […] The collection of data used in the rating system began on July 1. Sanctions against these halls that do not meet their quotas are planned to start on 1 September".
Here it comes to implement a system of segregation of the players where the operators meet certain criteria will have exclusive tables, that are not shared on the rest of the network.
Discuss the closure of Titan.fr on PokerCollectif forums: Titan.fr will close its doors July 30, 2012
BLOG COMMENTS POWERED BY DISQUS
---