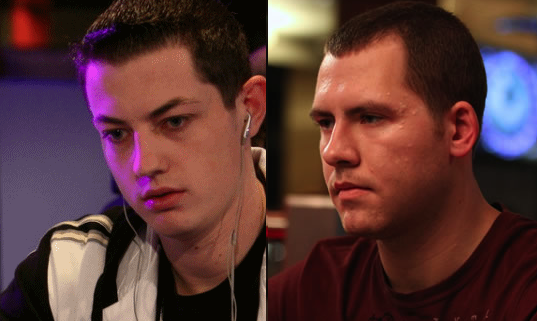 The famous challenge between Tom Dwan and Daniel Cates continued last night. The session was relatively short (1099). The image of the duel, jungleman12 has continued its momentum and added 39 k$ to his lead.
For those who have lost the thread, here is the official figures until now:
Number of hands played: 19 335 50,000
Jungleman12 profits: $ 1,059 251
Loss of Dwan Tom: 1 255 $119


The biggest pot of this session was won by Dwan.

Dwan opens to $ 1200 and Daniel 3bet $ 4800. Tom call.
The flop comes Kd-Jh-7 c.
Daniel bets $ 4800 on this flop and Dwan call.
The turn is a 9. Cates put $ 14,400 and Dwan call always.
The river brings a 6 h and jungleman12 pushes the rest of his stack in the middle of the table.
Dwan caller must the rest of his stack ($ 30,287) to go to the showdown. Dwan calla with Ts7s and Cates showed Qc5c.
Nice read Dwan, who wins a pot of $ 108 573.

Daniel Cates is a good momentum with this comfortable lead. Of course, half of the hands is not yet played and more advance, more Dwan challenge seems to have best read on his opponent. The fact that Dwan dominates the second half of the challenge is not to be excluded.

Speaking of Dwan, it will be at the opening of the site (April 17th) coach to a new site: http://www.expertinsight.com/. This is what we learned by reading a thread open on Twoplustwo.

Named expertinsight.com, the new platform will offer coaching sessions in several disciplines: golfing, blackjack, magic, pool and of course poker.

The instructors may find Andy Bloch, Phil Gordon, Ben Sulsky aka 'Sauce123', Chris Sparks aka 'GoMukYaSelf' and finally, Tom 'durrrr' Dwan and Patrik Antonius.

This is the pro (and Harvard Professor) Player Brandon Adams who had the idea of this site.

He comments: "Patrik and Tom available for the poker community knowledge is clearly a substantial resource and I'm already very curious to see what will be their first hours of coaching. '' Tom is quite simply the most innovative spirit of poker. Many players of his generation have clearly identified him as the main influence their development in poker. Tom is of exceptional speed and I think it will show a large preview during a typical session of one hour. Patrik is probably the second most big winner in poker over the last decade. At one point he was even the biggest winner in all types of game on Full Tilt Poker.

Coaching will not be given, but when you have the means, it can be a good investment. One hour sessions will take place remotely by an audio/video system such as Skype or MSN. The sessions will begin at $ 3000 per hour with escalation of $ 100 each time.

We have absolutely no doubt that Tom Dwan is an excellent poker player. but the question of whether he is a good coach remains unanswered.

Discuss this news on PokerCollectif forums: Update from the durrrr challenge + new site of coaching
BLOG COMMENTS POWERED BY DISQUS
---