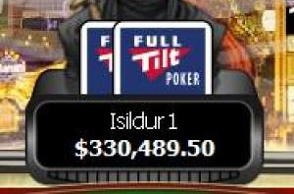 Since October 1, Viktor "Isildur1" Blom replays on the tables at Full Tilt Poker. He first started playing Pot Limit Omaha heads up tables$ 25 / $50. The session went well and he ended with gains of 10 buy-in. A little later, he lost the half of this money in the hands of a Finnish player to Hold'em without limits.

On Saturday, October 2, Isildur1 has played against that which is currently in a big challenge against Durrrr, i.e. "Jungleman12" alias Daniel Cates to the delight of "mocking". 2123 hands have been played between these two players and it is Cates who has had the best during this short session ending with a profit of almost 100 K. Yet, from the first hands, Isildur1 was well done by taking an advance of 50K. This match is played on heads up tables to Hold'em no limit.
The biggest pot went to "jungleman12". Isildur1 has amazed his stack while Jungleman12 had 88 on Q2984. Bad timing for a bluff.

After this session, "Jungleman12" played a few hands against Tom Dwan to lose the equivalent of a few big blinds. Nothing to scare the man who already has a lead of 690K in this challenge.

Note that, to our knowledge, nothing confirms beyond reasonable doubt that the player on Full Tilt with the pseudonym "Isildur1" is actually Swedish Viktor Blom, the player who finished 16th at the Main Event of WSOPE to 33,285 books award. On the other hand, many people make the link between the two.

It should also be noted that Isildur1 played today many hands against Dwan and that things would not go too badly for him so far!
The future will inform us of the rest. In the meantime, you can discuss this new by clicking the following link: vs Isildur1. Jungleman12
BLOG COMMENTS POWERED BY DISQUS
---