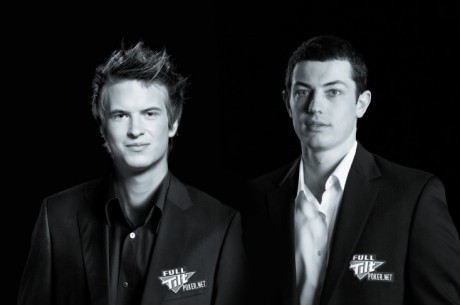 Since the reopening of Full Tilt Poker, things don't go very well for the pros of the online poker room.
Things are even really bad, you might say. Indeed, Tom "durrrr" Dwan and Gus Hansen are among the 2 biggest losers of the site since its reopening.
Among the biggest losers are:
Gus Hanson:-1.8 M
Tom Dwan:-688 K
"patpatpanda":-405K
Ben Tollerene:-337 K
Scott Seiver:-302 K
With what is the biggest winners, noted:
1Il|1Il|1il|: + 435K
Sauce1234: + 424K
LokolsBack: + 323K
1Mastermind: + 316K
Sauce on FTP gains will help him forget the fact that he has lost 210K on PokerStars tables (Sauce123 on PokerStars).
Duel between Dwan and Blom
Speaking of Tom Dwan high, yesterday, he faced his pet peeve on FTP tables, i.e. Viktor Blom aka Isildur1. In a match of 2 h 45 and 1381 hands, Tom Dwan is lost $ 200,000 against a person who was a few years ago giving him a beating on 4 tables of heads-up to the high limits on this same site.
Recall that since black friday, Tom Dwan offers coaching to $ 6500 now, just a little more than the rate charged by Patrik Antonius who asks $ 6000 per hour.
In its announcement of coaching, one can read: "you need to be confident in your game. You need to be able to bluff and to lose a big pot. To be able to make a huge call and you wrong about being able to leave the workforce after. I do sit not a poker table while waiting for a pair of ACEs. I can show you when and why 7-2 may very well do the trick. »
We remind you that you can find very good coaches on our forums with much better rates! You won't have to make the request!
If you missed this duel, you will see here four important hands:
Hand 1 duel Isildur1 and durrrr
Hand 2 duel Isildur1 and durrrr
Hand 3 duel Isildur1 and durrrr
Hand 4 duel Isildur1 and durrrr
Discuss this article on the forums of PokerCollectif: winners and losers on the tables at Full Tilt Poker
BLOG COMMENTS POWERED BY DISQUS
---