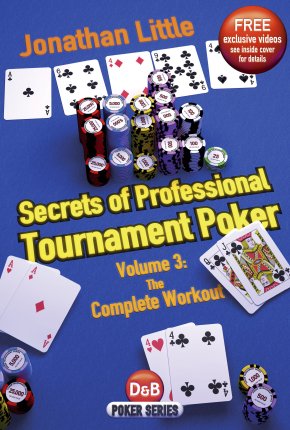 Jonathan Little is a 28 years old professional poker player born in Florida. To date, it has 12 scholarships of the WSOP, 2 WPT titles, 4 final tables for a total of 7 fellowships. It has also several good results at PokerStars in the SCOOP and WCOOP tournament series.
He played under the pseudonym "Jcardshark".
Recently, editions D & B Publishing, he published the volume 3 of its series "Secrets of Profesional Tournament Poker"!
This trilogy is cut off as the trilogy very famous of Harrington on Hold'em! The 1st volume focuses on the basics of the game and the start of tournament strategy! Volume 2 is interested in the middle and at the end of the tournament. The third and final volume is a "Workout book", just as the third volume of the series of the Harrington.
What is a book of Workout? A book in which you need to put your knowledge into application to analyze hands! A book of which you are the hero somehow!
The book resumes of hands played by the author with themes and issues (KK preflop when there is lots of action, play pots multiway pot control, information, trapper, play against fish, play against the nits, play shortstack, etc).
Each hand gives us an overview of the situation, a presentation of the facts. Subsequently, the player must answer one or more questions. Each answer will mark a number of points! 'Good' answers will be given away.
Obviously, you won't agree with all the answers from the author, but that's not the issue. The goal is to work his logic when we play tournaments hands and to see how the author thinks and why he took such and such decision. In other words, what information allowed him to take what decision.
The interesting side of the book is that you can read a few pages whenever you want. This is not the type of book that you read page 1 on the last page. You can watch the themes that interest you and go hands in question. You can also discuss these hands with other players to compare your scans with those of the author.
If you are interested in the book, it is available in e-book version for $ 19.95 at the following address: http://www.dandbpoker.com/
You can also visit the official page of the book for more information: http://www.dandbpoker.com/product/secrets-of-professional-tournament-poker-volume-3
Discuss this book on PokerCollectif forums: Secrets of Profesional Tournament Poker 3 - Jonathan Little
---