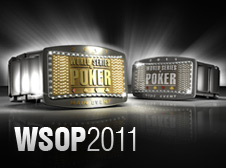 A 18th place for Gabriel 'rouliroul' roll at the NLHE 1.5 k, a tournament interrupted at 10 - games mix 2.5 k, two other Quebecers in paid places in the seniors tournament, four Quebecers still in contention for the event #32 and Jonathan Duhamel still survives to the day #1 at Stud Championship. Here is the summary and the results of June 18 to the WSOP 2011.
Event #28 (Hold'Em no limit at $ 1,500)-a 18th place for Gabriel Rouleau (rouliroul)
The eyes of Quebec were facing Gabriel Rouleau (rouliroul), who began the day in 7th place on 28 players back for the day #3. Bad luck is quickly shot on rouliroul: as soon as the award of his seat, he found himself on a table where he was 4th of 8 for chips. Worse still, these 3 players with big stacks were all beside him: one directly to his right, the other two directly to his left, thus preventing to use wisely the advantage of his chips.
Gradually, Rouliroul will have lost some chips, and with 18 players remaining, it was not able to win his 50/50 while he found himself all-in with KQs against TT, thus eliminating it in 18th place. He still collects $ 21 397 for his performance.
Disposals were fast on this 3rd day of hostilities: barely two hours elapsed between the start of the day 3 and the official final table. It was Andy Frankenberger that wins the bracelet and nearly $ 600,000. Frankenberger won the title of player of the year at the World Poker Tour in 2010, and the year 2011 seems just as profitable for him.

Event #29 (10-Game Mix - 6max $ 2500) - it ends tomorrow...
The 10-level stop rule has once again made arrested a tournament that was to be completed the same day. This time, there were only 3 players: Chris 'Genius28' Lee, Brian Haverson, and Travis Pearson.
Shaun Deeb was, by his side, the last player of the day to be eliminated. This third day was for him a real Russian mountain golf course: it started as chip leader with 650 k chips, ended up shortstack at 150 k, then became chipleader with a little more than a million in token... everything in a single hour!
The action will resume today while the trio will return for the end of this joint event.

Event #30 (No-Limit Hold'Em for 'Seniors' $ 1000)-two other Quebecers in paid places!
An excellent day for two Quebecers who were back in the day #2 of this event for 50 years and more. Both were able to reach the paid places (top 396). It was Robert Taylor, who was the first Québécois to fall in battle, in 246th place for a purse of $ 2329.
On the side of André Boyer, the stars appeared to be in place to see it reach the 3rd day. Unfortunately for him, he was one of the last players eliminated from the day. He thus left with a 42nd place and $ 10 839.
The action will resume today while it does WGI only 35 players.

Event #31 (Pot-Limit Omaha at $ 3000)
The previous day had been very difficult for Quebecers, while none of the 12 players of the Quebec delegation was able to reach the day #2. Whatever the case, 138 players were back yesterday. Chipleader of yesterday, Benjamin Lamb, ends the day #2 ranked second. Only Sam Stein ahead of Ben Lamb.
The action will resume today with 26 players remaining. The french Jean-Philippe Leandri has been able to survive this second day, despite its precarious position (it is ranked 22nd with only 63 000 chips).

Event #32 (No-Limit Hold'Em at $ 1500)-four remaining Quebecers
As expected, a large crowd had come to participate in this tournament 'affordable' $ 1500 hold ' Em no limit. Quebecers were not exception: could find pasa less 32 québécois on 2828 participants.
Eliminations were made quickly, while nearly 2500 players had to pack up. 362 survivors, there are only 4 Quebec: Marc-Etienne McLaughlin (General Irish - 56th rank), Pierre-Marc Chadi (99th overall), Eric Cloutier (128th) and Gabriel Houle (GabyGaby - 252nd).
The American Adam Lippert is currently in the forefront. We have also ranked 10th french Pieter Michael De Goede (aka Pimoss87).
The action will resume today, while 65 other players will have to be removed until all the survivors to ensure a scholarship of at least $ 2786. The winner of the event will win $ 668 276. Good luck to our 4 remaining québécois.

Event #33 (Championship 7-card Stud Hi-Low 8 - or - better than $ 10,000)-Duhamel still alive; John Racener in mind.
The elimination of Jonathan Duhamel at the #32 event will have at least had the advantage to allow him to participate in this event here. It was also the only Quebecer to participate in this tournament.
Although it is not a Variant that Duhamel mastered, he nevertheless was able to survive the first day. Things were going well for him while he found himself with a little less than double the average stack at some point in the tournament (52 k chips while averaged 19.6 k), but it has lost some chips at the end of day. It lies therefore in 78th place with 18.9 k tokens, a little less than the average of the remaining players.
The runner-up of the main event of the 2010 WSOP, John Racener, lies at the moment at the forefront. The french David Benyamine is also in an excellent position, ending the day 4th.
There are only 127, 168 participants. Only the top 16 positions are paid: there is therefore still much action for this Stud Championship.
To watch today:
-The four remaining Quebecers to the event #32
-Jonathan Duhamel in the #33 event
-Beginning of another event that will be without a doubt very popular: a no-limit Hold'em Tournament ' Em to $ 1000.
For more information, you can consult the forum by clicking the following links:
Event #28 - Hold' no limit to $ 1500 - results
Event #29-10 - games Mix 6max $2500 - results
Event #30 - Championship for seniors to $ 1000 - results
Event #31-Pot - Limit Omaha $ 3000 - results
Event #32 - Hold' no limit to $ 1500 - results
Event #33 - championship of 8-card Stud $ 10 k - results
Results of Quebecers to the WSOP 2011 - update to the #31 event.
BLOG COMMENTS POWERED BY DISQUS
---