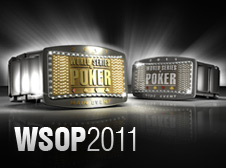 A second place for Canadian Simon Charette at the #48 tournament; four players remaining in the tournament #50; A 28th place to Roch Cousineau in the #51 tournament; No chance for Erik Cajelais and Jeff Hakim at the #52 tournament; Geneviève Gloutnez (aka Pickpocket) passes to the day 2 at Championship reserved for women (#53). Here is the summary of the 1st July to the WSOP 2011.
Event #48 - Hold'Em no limit to $ 1500 - Simon Charette ends second; victory of Athanasios Polychronopoulos;
After three long days of play, there remained only 4 players who were all about many chips at the dawn of the fourth day of play.

Canadian Simon Charette had a day filled with ups and downs: in less than 40 minutes, it went from leader in chips for shortstack, then double a few times against Peter Ippolito. Unfortunately for Charette, the headsup between Athanasios Polychronopoulos and him will have been to the advantage of Polychrnopoulos.

Simon Charette therefore finished in 2nd place and won $ 404 235, while Polychronopoulos wins first bracelet and $ 650 223


Event #50 - Triple - luck No - Limit Hold'Em $ 5000 - Adam Geyer at the forefront
With 34 players still remaining, the players expected to play a 4th day. And as fact, after playing 10 maximum levels, there are still 4 players.

Two french players who have survived day 2 have unfortunately not been able to repeat the feat yesterday and went down in 20th and 12th place. Vanessa Peng, leader in token the previous day, will have had a day in true Russian fixtures, but will still have been able to reach the final table before losing in 6th place.

At the dawn of the last day of activity, Adam Geyer throne ranked first with 3.7 m, but it is followed very closely by Antonin Teisseire (3.4 m) and Darryl Ronconi (3 m). Eric Froehlich, in 4th place, is a little more away from the head with 2.1 m in chips.


Event #51-Pot - Limit Omaha Hi - Low 8-or-better $ 1500 - Roch Cousineau finished 28th.
The second day of this pot-limit omaha event will have several quick victims, so that the tournament went to the unofficial final table while there are only 10 players.

A single Quebecer took by t day 2 — Roch Cousineau, who started 21st on the 134 remaining players. Cousineau has been able to last for a long time his experience, while it had to bow to the 28th rank yesterday, what brings him the sum of $ 7024.

Players will now return while David Sands has a lead over double on his closest pursuer (Sands a 1.13 m vs. 515 k for Jeffrey Gibralter in 2nd place).


Event #52 - Hold' mixed (limit and no limit) $ 2500 - no chance for Erik Cajelais and Jeff Hakim.
The image of the #51 tournament, things took place quickly in this mixed Hold'em Tournament ' limit Hold'em and no-limit. Jeff Hakim and Erik Cajelais were the only representatives of the Québec delegation to have spent the second day. Unfortunately, neither one nor the other has been able to reach the paid places.

There are only 9 players at the dawn of the third day, while Brandon Meyers dominates outrageously with double the chips of Noah Boeken (2nd place). Matt Matros is in 3rd position. The players returned to the attack at 3 o'clock, hour of Las Vegas, and a winner should be crowned today.


Event #53 - Championship for women Hold'Em no limit to $ 1000 - Geneviève Ghanem (pickpocket) passes to the day 2.
The figures for participation in the WSOP this year are really solid this year and the poker is less and less a game reserved for men. We had again the evidence while this tournament reserved for women has attract not less than 1055 players. Some Quebecers were lot (7), including two members of PokerCollectif Laurence 'Sharon' Grondin and Geneviève 'pickpocket' Ghanem.

A few men, once again this year, are slipped among entries (the law does not allow to forbid men to participate in this event).

Yesterday took place rapidemnt, while only 137 players will return today. Among Quebecers, Genevieve only, Ghanem (currently 67th ranked) and Suzanne Poirier (73rd overall) have been able to survive this first day. It is the French Celine Bastian which dominates the lot, while she finished the day with 79 k, ahead of American Bing Du to 42.1 k.

20 other players are to be eliminated until all ensure a profit pocketing $ 1804. The Grand Prize winner will win $ 192 344.


To watch today:
-The performance of Geneviève 'pickpocket' Ghanem at the reserve for women Championship.
-Start of an event to $ 1000 No-Limit Hold'em, one of the last large public events of Hold'em.
-Start of the tournament to $ 50,000.
For more details, please visit the forum by clicking the following links:
Event #48-No - Limit Hold'Em $ 1500 - Canadian Simon Charette finished in 2nd place.
Event #50 - Triple Chance No-Limit Hold'Em $ 5000 - Adam Geyer
Event #51-Pot - Limit Omaha Hi - Low $ 1500 - Roch Cousineau finished 28th
Event #52 - Hold'em mixed (limit & No.-limit - no chance for Erik Cajelais and Jeff Hakim.
Event #53 - Championship reserved for women - NLHE $ 1000 - Geneviève 'pickpocket' Ghanem passes on day 2.

Results of Quebecers to the WSOP 2011 - updated till the #53 event
BLOG COMMENTS POWERED BY DISQUS
---