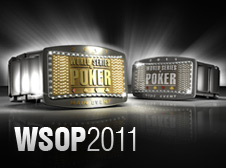 Beautiful performance in Quebec to the WSOP 2011 yesterday, while two Quebecers (Jonathan Driscoll and Odette Tremblay) have reached the final table at the event #8 and Guillaume Rivet (sixzeros) leads the event #11 with 22 players remaining.
#8 event (NLHE 1 k): two Quebecers on the final table
Duhamel had started the day as a leader among the 4 remaining Quebec players.
Despite its good position, it was quickly eliminated early in the day after losing a few consecutive pots.  He had to bow to 54th position, thus pocketing $ 9738.
Other Quebecers, Gabriel Rouleau (aka Rouliroul), suffered the same fate as Duhamel a few moments later. In 45th position, he pockets $ 11,995 for his performance.
The day was luckier for Odette Tremblay and Jonathan Driscoll (Da_Engineer). The latter was able to profit from his carpet and ended up 5th. On the side of Odette Tremblay, his ascension was perhaps less spectacular, but our two Quebecers were nevertheless able to reach the unofficial final table (the final table began in 10 players, but the official final table starts at 9 players).
Unfortunately for them, as many Da_Engineer that Odette were quickly eliminated: first Da_Engineer in 10th place (all in preflop AK vs. 99... He hit his ACE on the flop, but an unlucky turn brought a 9, one of the two outs of his opponent).  A few minutes later, this is Odette undergoing eradication. In this hand, Sadan Turker was simply pushing all-in from the small blind with J5o. Odette quickly called the development from its bigblind with K7o. Although it was slightly ahead for this hand, the first card of the flop brought a pair to Türker and Odette was not able to hit one of its 6 outs.
Da_Engineer wins $ 38 128 for his performance, while Odette WINS $ 49 258.
#10 event (NLHE 6 - max 1. 5 k): A Quebec still in contention...
On the 188 remaining players at the dawn of day 2, 5 Quebecers were back and always aspired to top honors.
Marc Blais (Marke) was unfortunately the first eliminated québécois (71st place - $4898).
Moments later, it is Alexandre Gauron (seven) who imitated his compatriot in 67th place, seizing also $ 4898.
Artist Marc Dupré, meanwhile, finished in 50th place. He pockets $ 6505 for his performance. Eyes were then on Marc Étienne McLaughlin (General Irish) who was in an excellent position during a good part of the day. Unfortunately for him, his elimination in 35th position deprives him of a return to the day 3, but allows him to Pocket $ 10,264.
Sean Grover, the last list Quebec, well able to parlay his carpet and will begin the day 3 ranked 10th, with a stack of 492 000 chips. It ensures a minimum prize of $ 19 802.
Event #11 (Omaha Hi-Low 10 k): Guillaume Rivet (seven) still dominates
Guillaume Rivet (SixZeros) was back after a solid performance, a few days earlier, in the tournament to $ 1500 of the same variant. His performance also earned him a 15th place.
This time, the Québécois repeats again and ends up in pole position with a wide lead on his closest pursuer while there are only 22 players. SixZeros features of a carpet of 809,000 tokens, while Alessio Isaia, in 2nd place, has only 535,000.
Rivet is already assured of a second pay position for the 2011 WSOP and could get their hands on a $ 465 216 scholarship by winning this tournament if it is able to win the prestigious bracelet.
#12 event (tripled Chance NLHE 1.5 k): three Quebecers will be back...
A fortnight of Quebecers took part in this event, on 1340 participants. Lot, only 3 Quebecers on the 160 remaining players will have been able to survive on day 1, or Philippe Plouffe (20th overall), Gabriel Alarie (95th overall) and Pascal Lefrancois (ranked 128th). 144 players score a minimum of $ 2822, while the winner will collect $ 352 808.
Therefore, an event to follow, where three Quebecers will have the opportunity to move into paid positions.
You can check out the forum to find more information about the different events of the WSOP 2011:
Event #8-No - Limit Hold'Em $ 1,000
Event #10-No - Limit Hold'Em 6 - max-$1500
Event #11 - Omaha Hi-Low split 8-or-better than $ 10,000
Event #12 - Triple Chance No - Limit Hold'em to $ 1500
The results of Quebec to the WSOP 2011
BLOG COMMENTS POWERED BY DISQUS
---