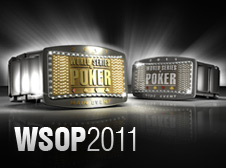 After four times of day 1, the WSOP have decided to change disk and to change, pass to the first edition of the day 2.
They were many Quebecers to be qualified for day 2A. Thus,
Christopher McClung, Armenak Kizirian, Jean-Christophe Ferreira, Vincent Jacques, Jonathan Garneau, Marc-Étienne McLaughlin, Sean Grover, Philippe Bouchard, Patrick Braga, Ricci Cesidio, Gabriel Houle Morin, Kyle Jackson, Brian Hassan, Marc-André Payette, Jonathan Duhamel, Noeung Troeung, Marc-Étienne Blais, Olivier Racine, Shawn Hattem, Adam Cader, Jeff Hakim, Jean-Christophe St-Pierre, Jean-Philippe Ratelle, François Binette, Rudy Blondeau, Shayne Khanna, Jiachen Gong, Jean-François Talbot, Bruno Lalonde
and
Saman Baniaman
were back today.
Members of PokerCollectif have been in the spotlight of the day 2A: many of last euxces had excellent performance to qualify for day 3. Eleven Quebec, virtually all of the members of PokerCollectif, will be back next Wednesday so that these survivors of yesterday will be combined with those of today.
The classification of the survivors is, for the moment, as follows:
Christopher 'D0r1t0s' McClung
(11th - 313 600)
Jean-Christophe 'Ahmad' Ferreira
(33rd - 279,600)
Marc-Étienne 'General Irish' McLaughlin
(50th - 248 500)
Jean-François Talbot
(136th - 183,000)
Gabriel 'gabygaby' Houle Morin
(178th - 157 900)
Jonathan 'KiwiKaki' Garneau
(227th - 143,000)
Sean Grover
(298th)
Shawn Hattem
(309th - 117 200)
Marc-Étienne 'Marke' Blais
(386th - 100 700)
François 'greg29' hoe
(526th - 72 900)
Marc-André Payette
(739th–740th - 37,000)
One of the stars of the day was, once again,
Phil Hellmuth Jr
... but this time for any other reason than a solid peformance. Poker Brat had head elsewhere? One thing is certain, he seemed to have forgotten that he should return to the game today. History tells us that
Mike Matusow
had to send security in the House of Hellmuth Poker Brat realizes that he should come to his table. Time that Hellmuth return, his carpet had increased from 11,800 to only 7000. But true to himself,
Phil Hellmuth
has been to end the day at 64 900, allowing him to continue his adventure at the WSOP this year.
Unfortunately, the adventure of
Jonathan Duhamel
ended early yesterday, while he found himself all-in with A2 against the AK to his opponent. The champion of the world will therefore not managed to reach paid places this year.
Stay tuned on PokerCollectif: we will follow with you 2 B day action today while many Quebecers are still alive and will try to keep the title of world champion in Quebec for a second year on. You can follow the latest updates updated on-line by clicking the following link:
results and discussions of Quebecers to the 2011 WSOP main event
Alternatively, you can click on the following link to know the results of Quebecers to the 2011 WSOP event #1 until the last event before the 'Main Event':
results list of Quebecers to the WSOP 2011 - complete up to the Main Event update
BLOG COMMENTS POWERED BY DISQUS
---