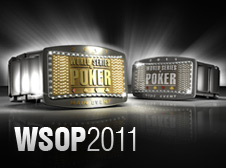 An 8th place to Genevieve Ghanem (aka Pickpocket) Championship reserved for women; solid performance for Quebecers to the #54 then event that 11 new Quebec players are in addition to the 5 players already qualified on day 2, including Eric Afriat which ends the day at the top, followed by Vincent Jacques (vluff) in 6th place, and Sébastien Roy (rockstar) 31st ranked; Guillaume Rivet still in middle of Pack in the tournament of Champions $ 50,000, then Benjamin Lamb continues its momentum to be hogging from 1st row. Here is the summary of July 3 to the WSOP 2011.
Event #53 - Championship of Hold'Em $ 1000 reserved for women - a 8th place for Geneviève Ghanem
Fourteen players (in fact, thirteen players and a player) were back yesterday to compete for top honors. Among them, the Quebec Geneviève Ghanem, better known on PokerCollectif under the pseudonym "Pickpocket". Therefore the 8th place, Geneviève has been able to double from the first moments of the match, which advantageously placed her in 4th place on the final table.
Once the final table is reached, we were able to assist out of the tournament by Jonathan Epstein, the last man still in contention to join this tournament reserved for women, in 9th place. Heckled for some time, Jonathan Epstein will be remembered probably long Cree powerful spectators joy when Marsha Wolak put an end to his tournament.
A few moments later, it is unfortunately Geneviève 'pickpocket' Ghanem who suffered the same fate as Epstein. Unfortunately for pickpocket, she found herself all in preflop with QQ against AA and 55. Unable to beat any of these two hands (55A hit a triple!), she had to settle with a 8th place $ 17,537.
Later, it is finally Marsha Wolak and Karina Jett (the latter was also pregnant!) who found themselves in headsup. They first decided to take a break for dinner earlier than expected, and on their return, the action will have lasted only one hand. Marsha Wolak won the victory. It describes his victory as being "great justice": the last year at this same event reserved for women, she got eliminated by Shaun Deeb (who was disguised as a woman); the fact of having eliminated Jonathan Epstein gives him additional satisfaction. We bet that the $ 192 344 and the WSOP bracelet must also help to forget its past year performance!
Event #54 - Hold'em no limit to $ 1000 - strong day for Quebecers with 2 players in the top10!
Not less than 2644 players are registered today, adding to the 1932 players of the previous day. Yet once again, Quebecers were likely to answer the call, and they will have particularly excelled. It is a québécois who finds himself at the forefront. Eric Afriat was able to slightly exceed the mark of 100,000 tokens and to seize the position of head. It is followed not far by an another Quebecer, Vincent Jacques (aka Vluff) in 6th place. Other Quebecers being able to survive the day 1 b are: Sébastien 'Rockstar' (31st) Roy, Nahabedian Raffi (51st), David Guay (118th), Jonathan Talbot (124th), Denis Bergeron (206th), Brahm Blumenthal (227th), Pascal Hallee (273rd), Marc-André (317th) Payette and Nicole Germain (357th).
At the dawn of the 2 day and with day 1A and 1 b combined, we are therefore two Quebecers in the top 10: Eric Afriat in 2nd place and Vincent 'Vluff' Jacques in 8th.  We have a grand total of 16 Quebec players among the 638 survivors.
The action will resume at 2.30 p.m. Las Vegas time, while 170 other players should be disposed before all and each shall ensure at least $ 1812. The grand prize winner will be hands on $ 648 880.
Event #55 - the players Championship $ 50,000 – Guillaume Rivet (aka SixZeros) still in middle of Pack.
124 players have spent $ 50,000 to participate in the tournament of champions. While only 5 players had not been able to survive the first day of play Saturday, Sunday will definitely does more damage, then that Daniel Negreanu, Jason Mercier, Mike Matusow, Justin Bonomo, Tom 'durrrr' Dwan, Michael Mizrachi, and many others had to bow during the day. There remains even 74 players.
Québécois Guillaume Rivet (aka SixZeros), which was middle of the Pack at the dawn of the day 2, will be repeated his feat at the dawn of the day 3: it is at the moment ranked 36th.
The American Benjamin Lamb is currently ranked first. Benjamin Lamb had never won the world series bracelet before you win one more early this year in the #42 tournament, in addition to finish 2nd at the #31 tournament, and reap a 12th place in the #46 tournament. He knows an extraordinary summer at the WSOP, and everything seems to him smile for this tournament also.
Ben Lamb is followed closely by the popular Gus Hansen. The action will start at 15:00 time of Las Vegas, and with so many familiar faces in contention, it's an event not to be missed!
To watch today:
-The beginning of day 2 in the #54 tournament, while not less than 16 Quebecers are still in contention.
-Guillaume Rivet and the many known faces to the tournament of champions at $ 50,000.
The WSOP drawing to an end, no new event begins today. There is only a Hold'em event ' Em at $ 1500 and a PLO event $ 5000 simultaneously beginning July 5. After which, it will be the beginning of the main event, which begins July 7.
For more details, see the forum by clicking the following links:
Event #53 - Championship reserved for women - NLHE $ 1000 - a 8th place for Geneviève Gloutnez.
Event #54 - Hold'Em no limit to $ 1000 - day profitable for Quebecers, while 11 players will advance to day 2.
Event #55 - the players Championship $ 50,000 – Guillaume Rivet (sixzeros) still in middle of Pack.
Results of Quebecers to the WSOP 2011 - updated till the #53 event
BLOG COMMENTS POWERED BY DISQUS
---