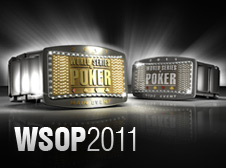 A 5th place for Cajelais, Juanda who spoil the feast of Hellmuth Jr., a first bracelet for the Canada, record crowds and some paid positions for Quebecers. Here is the summary of the 2011 WSOP weekend (10-11-12 June).

Event #13 (Triple Shootout No - Limit Hold'Em at $ 1500)-Cajelais finished 5th.
At the beginning of the day #3, Cajelais had announced that it would take a tank to stop it. Unfortunately for him, this tank took the name of Andrew Badecker. Erik Cajelais had to bow while he was unfortunate enough to complete his drawing to color on a board KJJ. The river has completed the circulation of Cajelais, but Badecker had the hands a fatal KJ.
Cajelais ends so 5th, and pockets $ 79 315 for his performance. Andrew Badecker, for its part, has taken advantage of the elimination of Cajelais to win the much coveted bracelet, as well as $ 369 371.

Event #14 (Limit Hold'em at $ 3000)-a first bracelet for the Canada.
After firing back with 300 000 chips against the 2.7 million of his opponent, the Tyler Bonkowski Canadian was able to turn the corner and win a world series bracelet, in addition to $ 220 817.
He thus became the first Canadian to win a bracelet at the WSOP this year.

Event #15 (Pot-Limit Hold'Em at $ 1500)-Brian Rast wins first bracelet.
7 Quebecers join the tournament rapidly lost from the first day of hostilities. It was Brian Rast who wins the event. Despite several excellent previous results for Rast, it was his first WSOP bracelet. He should thank his good friend Antonio Esfandiari, who convinced him to attend this event.

Event #16 (2-7 Draw lowball $ 10,000) - John Juanda spoils the party by Phil Hellmuth Jr.
Four years ago, Phil Hellmuth Jr. won his 11th bracelet at the world series of poker, becoming the player having won the bracelet more. With an extremely solid game, Hellmuth had a lead of 3:1 at the beginning of the Headsup against the FullTilt Poker pro player, John Juanda. Considered one of the best players in the world of 2-7 No-Limit, Juanda did intend not to make easy for Hellmuth day and counted well recovering for the last two years, where Juanda finished 4th in the same event. Methodically, Juanda quietly took control of the game and was masterfully able to dispose of his opponent, thus depriving it of a 12th bracelet. For his part, Juanda won a 5th WSOP bracelet.
During the headsup, Phil Hellmuth showed clear signs of impatience, admitting afterwards that he was alarmed by the quality of the game's Juanda. The calm and silence of Juanda has only amplified the tilt of Hellmuth.

Event #17 - (at $ 1,500 H.O.R.S.E.) - Aaron Steury wins the first event HORSE of the WSOP 2011.
Two quebecois (or rather, a Quebecer and a Quebec) were the lot for this first event HORSE of the WSOP 2011. Unfortunately, both for Brigitte Korak that Miguel Proulx (Mig), the day is completed rather quickly from the first day of hostilities.
It was Aaron Stery who was able to get their hands on the honors, winning $ 289 283 and a first WSOP bracelet.

Event #18 (Hold'Em no limit at $ 1,500)-a record crowd
Not less than 3157 players are registered for this event at $ 1,500, beating a record of registration for an event at this price. Several Quebec were part of the lot. Not less than 7 Quebecers were still present when the bubble finally burst, some of them enjoying even to qualify in paid places for a second time this year (it is the case of Marc-Étienne Blais, Philippe Plouffe and Pascal Lefrancois). Unfortunately for them, none was able to wait the day #3.
Here are the results of Quebecers in this event:
Jean-François Talbot (264th - $ 3153)
Nicolas Roy Gignac (260th - $ 3153)
Patrick Spinelli (189th - 3920. $)
Marc-Étienne Blais (aka Marke; 126e - $4432)
Gabriel Vezina (116th - $4432)
Philippe Plouffe (89th - $5838)
Pascal Lefrancois (aka Pass_72; 64th - $ 8012)

Event #19 (Hold'em limit 6 - max to $2500)
Four Quebecers were the lot of 354 this Hold'em event participants' limit Hold'em. While François billiard, Ricco Cesidio, Rock Cloutier attempted to place in paid places for the first time this year, Guillaume Rivet (SixZeros) attempted to maintain its momentum after having done well in two events of Limit Omaha earlier (a 15th place and 6th place). Unfortunately, the tournament ended on the day #1 for most of them. Only François Billard was able to survive this first day.
Francois billiard was however not able to place in paid places (top 36).
The action will continue today as there are only 12 players. Two Russians, Alexander Kuzmin, and Andrey Zaichenko, so is at the moment at the top.

Event #20 (No-Limit Hold'Em $ 1000)-another very popular event.
Like the tournament No-Limit Hold'em $ 1500 that had attracted 3157 players, to $ 1000 drew no less than 3175. 21 Quebecers were the lot.
With 341 players remaining, there remains even 4 québécois. Of the lot, Eric Afriat is in a better position (77th), followed by Guillaume Chantal (Street.Light - 90th), Jonathan Driscoll (Da_Engineer - 110) and Jason Hallee (Jayggins - 121).
The action will resume today and there are only 20 players to eliminate to make sure to pay attention.

Event #21 (Seven Card Stud Championship $ 10,000)
Only 126 players are registered in the Seven Card Stud Championship $ 10,000. This is a decrease of 16% over last year participation.
Of this number, no Quebec was among the participants. It remains that 91 players, including Men Nguyen, who will attempt to defend her title. It is the french Sebastien Sabic which will begin the day ranked first. Compatriot Bertrand Grospellier is not far behind, in 25th place.

To watch today:
-Our 4 Quebecers who could be sure to pay attention to the event #20
-Start of the event #22 (Pot-Limit Omaha) and #23 (Eight-Game Mix)
For more information or to comment on the performance and results at the WSOP, you can use the discussion forum by clicking the following links:
Event #13-No - Limit Hold'em Triple Shootout $ 1500 - results

Event #14 - Limit Hold-Em $3000 - results
Event #15-Pot Limit Hold'Em $1500 - results
Event #16 - Draw Lowball Championship $ 10 k - results

Event #17 - horse $ 1500 - results
Event #18-No - Limit Hold'em $1500 - results
Event #19 - Hold'Em Limit 6 - max to $2500 - results

Event #20-No - Limit Hold'Em $1000 - results

Event #21 - Seven Card Stud Championship $ 10 k - results
Results of Quebecers to the WSOP 2011 - update to the #19 event.
BLOG COMMENTS POWERED BY DISQUS
---