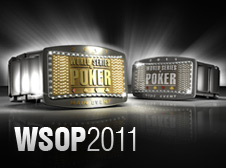 Not less than 12 Quebecers are classified in the positions paid in the #54 tournament, while Quebecers Sébastien Roy (Rockstar) and Nahabedian Raffi will be back for the day 3 and will have the chance to fight for a bracelet. Guillaume Rivet, for its part, is eliminated from the tournament of champions $ 50,000 while Josh Arieh is currently leader. Here is the summary of July 4 to the WSOP 2011.
Event #54 - Hold' no limit to $ 1000 - Quebec in scholarships... and Sébastien Roy (RockStar) thirteen and Nahabedian Raffi's return for the day 3.
They were 638 players to be back in the day 2, including not less than 16 players in Quebec. Eliminations successive quickly up to the bursting of the bubble (468th position).

Four Quebecers on the 16 have not been able to reach paid places. Thus, Nicole Germain, Marc-André Payette, Pascal Hallée and Denis Bergeron will have not been able to make profitable their investment despite the fact that they were back for this second day. Brahm Blumenthal was the first Québécois to leave once the bubble burst (in 345th position), which pays him $ 2059. It was followed by Denis Paquin and David Guay (respectively in 336th and 333rd position), for $ 2347. Roch Cousineau, who was the Quebecers who have the better performed on day 1A, then banked ranked 316th ($2347), followed by Stéphane Desosiers (also $ 2347). Jonathan Talbot and Jean-Christophe St-Pierre, ranked 264th and 266th, were able to achieve a higher echellon and amass $ 2676, like Victor Cowen ranked 248th. Jean-Philippe Piquette, on his side, won $ 3088 its 202nd place.

There remained while 4 Quebecers in the ranks, and things went smoothly for them. Vincent 'vluff' Jacques, for a while, managed to seize the chiplead. Unfortunately for him, he had to bow at the end of day (54th). It was also the case for Eric Afriat (59th), who had started the day in second place.

While only 44 players will return, Sébastien Roy (aka Rockstar) is in 16th place, while Nahabedian Raffi is ranked 7th.


Event #55 - the players $ 50,000 – Guillaume Rivet (aka SixZeros) eliminated Championship.
The 3rd day of the $ 50,000 players Championship is now part of history.

At the beginning of the day, they were 74 player; five levels later, they are more than 29. Among the players who were back, Guillaume Rivet (aka SixZeros) was middle of the Pack and was struggling to survive to this day. Unfortunately for him, he had to bow at the end of day, in 46th place, out of paid places.

For the moment, Josh Arieh is the leader in chips with 1.8 m. It is followed closely by Brian Rast (1.63 m). Phil Hellmuth Jr., for his part, is in 5th place and he is looking for his 12th bracelet (it already missed two opportunities this year to add a strap to his record).

The action will resume today and ends 5 levels later... so that should be calmly approaching the final table.


To watch today
-Sébastien Roy and Nahabidian Raffi on the third day of the tournament #54.
-The many known faces of the tournament of champions
-Start of the last two tournaments before the main event of the WSOP: a Hold'em Tournament ' no limit to $ 1500 (which should draw a monster crowd) and a Pot-Limit Omaha tournament $ 5000.

For more details, see the forum by clicking the following links:
Event #54 - Hold'Em no limit to $ 1000 - day profitable for Quebecers, while 11 players will advance to day 2.
Event #55 - the players Championship $ 50,000 – Guillaume Rivet (sixzeros) still in middle of Pack.

Results of Quebecers to the WSOP 2011 - updated till the #53 event
BLOG COMMENTS POWERED BY DISQUS
---