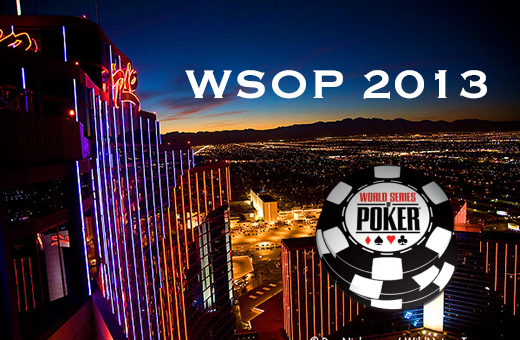 Event #57 - Hold'em no limit ($5000)
It is yesterday that ended this tournament ' em $ 5000. The final duel took place between Matt Perrins (UK) and Arthur Pro (USA).
It was the native of Manchester who had reason to the American. For his performance, he won $ 792,275. Arthur Pro Meanwhile starts with $ 489,451.
For Matt Perrins, it was his 2nd career bracelet. His first bracelet had been won in 2011 in a 2-7 Draw Lowball tournament.
Event #58 - Little One for One Drop ($1,111)
This tournament interested us strongly yesterday by the presence of many québécois in the race. As a reminder, here are Quebeckers that we followed with their respective place before yesterday:
34th Eric Afriat 50,500
248th Carter Swidler 26.375
291st Jonathan Roy 24,375
314th Vincent Jacques 23,500
407 Pascal Lefrancois 19,775
431 Bill Kontaratos 19,000
433rd Philippe Boucher 18,950
519 Mathier Clavet 15,425
586th Jeff Hakim 13,225
606th Jean-Pascal Savard 12,850
614th Stéphane Bisson 12,700 (who insisted to be included among the Quebeckers, same if born in Ottawa)
742 John Xenos 9,400
902 Dean Murphy 1,900
13 Quebec, only 1 survived yesterday, but still many succeeded in making awards. Are in the order:
388th Bill Kontaratos ($2,054)
183rd Mathieu Clavet ($3.167)
96th Jonathan Roy ($4,366)
As the Quebec still in the race, it's Éric Afriat , who is currently in 18th place with a stack of 355,000. The leader of the tournament Meanwhile (Joseph Wilson) has 983,000 tokens.
The action continues today but that there is more than 67 of 4756 players entered this tournament.
At this stage, all players are guaranteed at least $ 7.405. The winner of the tournament meanwhile will receive $ 663,727.
Good luck to Eric for this important day to come!
Event #59-2-7 Triple Draw Lowball ($2500)
This tournament ended yesterday while several big names were present at the final table.
The duel for the strap held between Eli Elezra and Daniel Negreanu. Unfortunately for Canadians, it is the American Eli Elezra, who has had the best on Negreanu.
Daniel pockets $ 107,055 for his performance while Eli WINS $ 173,236 in addition to the bracelet!
For Eli, it was his 2nd career bracelet in a WSOP tournament and his 32nd purse.
Event #60 - Hold'em no limit ($1500)
2541 players participated in this tournament to $ 1500. Among had, many québécois. At this stage, there are still 297 players in the race. Here is the list of Quebecers to follow for today:
20th Jeff side 81,800
30th Samuel Boily 72,000
81st Jonathan Driscoll 49,600
104th Carlo Nini 39,500
116th Jason Lavallée 36,600
140th Marc Carpenter-Perreault 32,200
198th David Simard 21,700
248th Derek Lerner 14,500
262nd Allen Michel 12,500
The action will resume today so that we will know the fellows for this tournament. 270 places will be paid. The smallest grant will be $ 2.778 while the largest will be $ 609,017.
Good luck to all present Quebecers in this tournament!
Event #61-Pot Limit Omaha ($10,000)
386 players participated in this tournament of PLO $10K. After the day yesterday, 168 are still in the race, including 2 Quebec:
2nd Jonathan Duhamel ($253,000)
33rd Miguel Proulx ($97,600)
Only 45 players will be paid and the winner of this tournament will be provided $ 852,692!
Yet once again, we wish good luck to our Quebec in this event.
To watch today:
- 9 Quebecers in the #60 event
- Jonathan Duhamel and Miguel Proulx in the tournament of Omaha at 10 K$
-The beginning of the Main Event
To discuss the performance of Quebecers to the 2013 WSOP, you can use our discussion forums: 9 Quebecers spend the day #2 in the #60 event
BLOG COMMENTS POWERED BY DISQUS
---