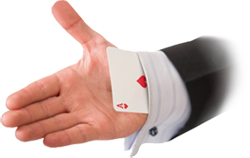 There is this some time, PokerCollectif you had talked about a case of cheating in a live tournament.
During the Partouche Poker Tour event, Patrick Partouche announced that one of the finalists, Ali Tekintamgak, was disqualified from the tournament. Ali had been caught in flagrante deli (video support) of cheating.
Another case of cheating took place last Saturday night, this time in Holland. The story begins when Pieter De Korver, winner of the European Poker Tour in Monte Carlo in 2009, note on the spot a reporter finds a bit sleazy. He trailed around the tables. According to De Korver, this fact is quite unusual in this kind of tournament in Holland. De Korver so survey a little and learns that this journalist is a German reporter who works on his own account.
Therefore, he has doubts and expressed his fears to the other players at his table. The action continues for several hours and nothing unusual seems to happen until the arrival of a new player at the table: Kadir Karabulut.
This name does maybe tell you nothing, but Kadir Karabulut were those who were celebrating alongside Ali Tekintamgac (the cheater) at the WPT in Barcelona. The arrival of this player, Korver note that Kadir Karabulut and a bit sleazy German journalist Exchange glances. Journalist approximates the table and turns like a vulture.
Pieter De Korver is concerned and shall notify the Director of the tournament of such information. He also speaks to several players in the tournament and at that time, all the players want to stop until Kadir Karabulut leaves. At this time, there are still 30 players.
Kadir and his henchman end up being expelled from the tournament.
The casino has apologised to the players and ensures that additional restrictions will be applied to journalists and bloggers who want to ensure the coverage of such event.
Discuss this news on PokerCollectif forums: cheater in a tournament in Holland.
BLOG COMMENTS POWERED BY DISQUS
---