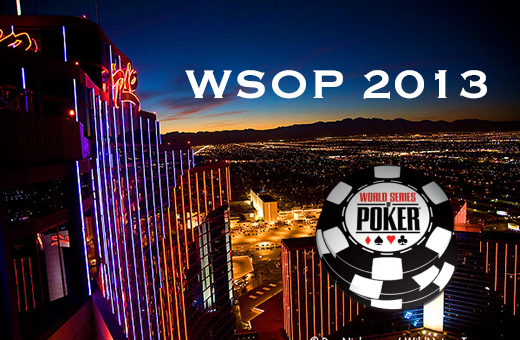 Event #44 - Hold'em no limit ($3000)
At the beginning of the day, it remained still 22 players for this tournament. A few hours later, this is Sandeep Pulusani who laid hands on the bracelet and $ 592,684.
For him, this was his 1st career bracelet, but his 9th purse in a WSOP tournament!
Event #45: Hold'em no limit ante only ($1500)
Yesterday, our attention was drawn to Jason "Jayggins" Hallée during this tournament to $ 1500. Jason was always racing, even if its situation was precarious (shortstack).
Although the rise of the century never came, Jason still managed to slightly raise his stack to complete the 52nd ranked and pocketing $ 2569.
At present, there are more than 9 finalists in this tournament. All are guaranteed a scholarship of $ 15,331. The winner of the tournament Meanwhile put the hand on $ 201,399.
Event #46 Pot-Limit Omaha 8 ($3000)
An another Quebecer was to follow in this Omaha-8 tournament at $3000. Miguel "Mig" Proulx. Unfortunately for him, his race is stopped during the day yesterday, shortly before the awards. It will be only be part discount for Miguel.
435 registrants, still only 17 in the race. At the Summit, found Alexey Makarov with 471,000 chips.
The winner of the tournament will win $ 279,094.
Event #47-One Drop High Rollers Hold'em no limit ($111,111)
Like last year, this tournament ' no limit will be used to raise funds for the One Drop body created by Guy Laliberté.
166 players therefore paid the $111,111 needed to get their seat.
Among the 166 players could return 2 Quebec: friend Alibay and Jonathan Duhamel.
Unfortunately, the two players are out before the end of the first day.
On his Facebook friend commented: "I bust of One Drop. I was outplaye. I gave the maximum, but they were too strong on my table (8 Pro) "."
When looking at the list of 166 players, we cannot say that the caliber of players is actually strong: Jason Senti, Daniel Negreanu, Ben Lamb, Jean-Robert Bellande, Johnny Chan, Eugene Katchalov, Olivier Busquet, Justin Bonomo, Vanessa Selbst and the list goes on.
Some recreational players, but many pros.
Currently, the tournament is led by Brandon Steven who has 1.3 M chips.
The tournament is scheduled to end Friday where you may know the winner of the grand prize of 4. $8M for this tournament!
Note that Daniel Negreanu will change to the day #2.
Event #48 - Limit Hold'em 6-max ($2500)
It is a thin 343 players who took part in this tournament. Among them, some Quebec one is still in the race today, Jeff Hakim in 104th place with 7000 chips.
When the action resumes today, the blinds will be 500/1000.
The winner will be known Friday and will win $ 206,796.
To watch today: Daniel Negreanu in the tournament for One Drop and the beginning of the #49, a Hold'em Tournament tournament ' no limit to $ 1500. As is always the case, can be expected in several Quebec inscriptions!
To discuss the performance of Quebecers to the 2013 WSOP, you can use the discussion forums: Daniel Negreanu passes on the day #2 One drop to 111 K$
BLOG COMMENTS POWERED BY DISQUS
---