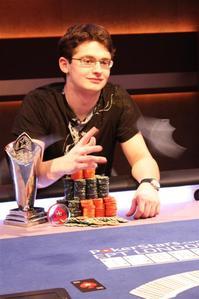 In a face to face which lasted more than 5 h 30, the young Scots of 23 years David Vamplew won the main event of the European Poker Tour 2010 in London. His challenge was of size, since he faced nothing less than a player with more than 10.5 m gain on the international circuit in addition to having 4 WSOP bracelets: the FullTilt Poker John Juanda pro player. As if it wasn't already enough to Vamplew, Juanda was a considerable advance: he had three times more chips than the young Scotsman.
Vamplew was able to get back to par with Juanda repeatedly, but each time, Juanda resumed his lead of 3:1. Juanda was particularly aggressive and conducting a minimum raise every time he was on the button. Nothing went to Vamplew, who did not appear to be able to adapt to the aggressive game of Juanda. With a bit of luck, it was able to double at the right time against Juanda which did not stop the aggression to Vamplew.
The momenthum made a course change to 180 immediately after the last break of the match. No one knows what happened in the head to Vamplew at that time but after Juanda has, yet again, resumed advance to 3:1, Vamplew seemed all the same man. Perhaps he expressed that he did nothing to lose, but whatever the case, it is set to be much more aggressive, 3bettant and 4bettant Juanda. For an hour, Vamplew totally dominated Juanda and took control of the match.
After pushing Juanda in the cables for the first time in this headsup, Vamplew gave the final blow when Juanda, who at this point had 3.4 m in chips (against the 21 m Vamplew), pushed K2s. Vamplew then made the most important call of his young career with A3o.
The flop, A3Q, had what relieved Vamplew that struck 2 pairs. Juanda could only hope to hit one of his multiple prints runner-runner: Juanda had a runner-runner flush draw (if the turn and the River was two tile maps); He was a runner-runner straight draw (if the turn and the river brings a 4 and a 5) and a runner-runner triple (if the turn and the River was two K or two 2). Vamplew was ahead at that time to 93% vs. 7%...
The turn was a tile, a 4 or a 5, a K or a 2... an innocent 9 of Spades sealed the victory of Vamplew!
David Vamplew, who began playing tournaments this year, thus wins the most important victory of his career. Before this victory, had only a single money-finish at the WSOP this year. He won £ 900,000
You can read the report on the forum by clicking the following link: Vamplew wins the 2010 EPT London.
BLOG COMMENTS POWERED BY DISQUS
---