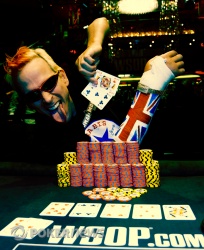 The first event of the World Series of Poker, European version has just ended. While Andrew Pantling was well ahead when he remained only three players at the table (Pantling had nearly 80% of the chips from the table), Phil Laak, who had at that time 10% of the chips, did everything a lift.
After winning a few pots, he removed himself with his Chris Bjorin against the KK QQ Bjorin to find in headsup against Andrew Pantling. Pantling had to 1.1m when the chips against Phil Laak 750k.
Phil Laak gradually increased his stack and recovering advance Pantling to be at the top.
The tournament ended when Laak pushed all-in while Pantling had raised preflop to 33k. Pantling thought, then called the all-in Laak
K5o Laak against the A

9

Heart Pantling.
The flop was all to the advantage of Pantling: 7

-4

-4

.
In addition to keeping advance Pantling now had a flush draw and more. Laak and had only 4 outs.
The turn brought a 5 ... in tile! Pantling therefore found late in the hand, but with several outs: nine cards heart, three aces and three new ones.
The dealer took off a long time before returning to the river ... a Q clover!
Pantling was therefore eliminated in 2nd place (£ 105,506), and Laak won £ 170,802 in addition to his first bracelet at the World Series life
The first event of the WSOPE thus has just ended. The event # 2, Pot-Limit Omaha, has meanwhile started with a total of 120 participants. Tom 'durrrr' Dwan was unfortunately one of the first players to be eliminated.
Discuss the event # 1 on the forum by clicking the following link: 2010 WSOPE Event # 1 NLHE 6-max
Discuss the event # 2 by clicking on the following link: WSOPE 2010 Event # 2 - PLO
BLOG COMMENTS POWERED BY DISQUS
---