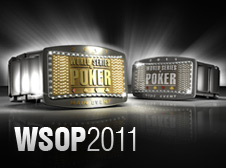 Six hours of headsup to the #8, a final table event for Guillaume Rivet (SixZeros) to the event #11, three 'money-finish' for Quebec to the #12 event and three Quebecers still in contention for the event #13: these are the highlights of the June 8 at the world series of poker 2011 (WSOP 2011)

#8 event (NLHE $ 1000): A battle that only ended more.
There remained only two players to eliminate so the champion is known: Americans Sean Getzwiller and Jon 'PearlJammer' Turner, as well as English Sadan Turker. He began the day with two-thirds of the total chips. While it might have to expect a 4th fast day to Crown Turker, we rather had right in a true battle of titan.
As early as the fifteenth minute, Jon 'Pearljammer' Turner is eliminated by Türker, then Sean was able to double his stack. The two remaining players were so tied.
It finally took nearly 6 hours of headsup for a winner to be declared, and it is American Sean Sean, who has been the top. Sean pockets so $ 611 185 and his first bracelet at the world series of poker.

Event #11 (Omaha Hi-Low 10 $000): Rivet finished 6th.
After finishing 15th in an event of Omaha Hi-Low earlier last week, that Guillaume Rivet (SixZeros) recidivism. Having started the day as leader in chips, Rivet will have survived to the final table. Upon arrival at the final table, Rivet was in 7th place.
From the beginning of the final table, the presence of the Québec delegation could be heard, singing in choir of the "Guil-laume Ri-vet". At one point, the Director of the tournament had to intervene in order to remember that incentives were allowed, but players could not make "boooh".
Buoyed by the cheers of his supporters, things are slightly improved for Rivet. Unfortunately for him, he has lost a big pot against Mack Lee and 30 minutes later, he had to bow down in sixth place, richer by $ 92 908.
It's the best performance of a Quebecker to the WSOP 2011 so far.

Event #12 (Triple Chance No - Limit Hold'Em - $ 1500): bad luck for 3 remaining Quebecers.
The day began with 160 of the 1340 initial participants. Of this number, Philippe Plouffe, Gabriel Alarie and Pascal Lefrançois were still alive. With 144 paid positions, the chances were good that they at least do a 'money-finish'.
Just the bubble exploded, Pascal Lefrançois (Pass_72) due to bow in 140th position, winning $ 2822.
A few moments later, it is the turn of Gabriel Alarie to eliminate in the 119th position, winning also $ 2822.
On the side of Philippe Plouffe, who started the day in 20th place, things will have not gone also although he would have liked. He made himself show output ranked 89th, for a total grant of $ 3726.
The day ended while there remained only 10 players. Nicholas Rampone, an American from Las Vegas, will start today with more than double the chips on his closest pursuer.

#13 event (NLHE Triple Shootout - $ 1500): three Quebecers to ensure of a money finish.
Information is still sketchy about this tournament. We know, however, that there are 160 players on 1440 participants. All remaining players are guaranteed a place in the awards.
Further information will be provided before the beginning of the day today. For the moment, we know that Quebecers Erik Cajelais, Carter Swindler and Allan Puzantyan are always among the 160 remaining players.

Event #14 (Limit Hold'Em - $ 3000)
Same situation as for the #13 event: we have at the moment very little information on this tournament. 337 participants, there are only 180. No Quebecers took part in this event. At the end of the first day of hostilities, Markus Herbel is in first position. It is followed by Marco Traniello, Alexander Queen and Victor Ramdin. Shaun Deeb is in 8th position.

Today looks less attractive for Quebecers, while will end the event #12, the #13 and #14 events will go to the final table and the event #15 and #16 (Pot-Limit Hold'Em to $ 1500 and $ 10,000 2-7 Draw) deburont.
Event #8-No - Limit Hold'Em $1000 - final results
Event #11 - Omaha Hi-Low Split 8-or-better $ 10 k - results
Event #12 - Triple Chance No - Limit Hold'em $1500 - results
Event #13-No - Limit Hold'em Triple Shootout $ 1500 - results
Event #14 - Limit Hold-Em $3000 - results
Results of Quebecers to the WSOP 2011 - update to the #12 event.
BLOG COMMENTS POWERED BY DISQUS
---