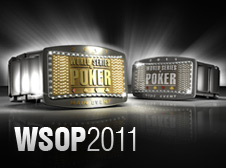 A record crowd of 925 players were registering for the third event of the 2011 WSOP $ 1500 Omaha Hi - Low Split 8 or better. A real surprise and relief that will silence a few pessimists who believed that the events of Black Friday would literally melt the number of participants in the world series this year.
At the conclusion of the day, 210 players remained alive. Among these, two members of PokerCollectif are still in contention: the quebecois Miguel Proulx (Mig) and Guillaume Rivet (SixZeros). While Mig can be found in the middle of the peleton with 17 400 chips, SixZeros is leader in chips with 71 200 chips.
The action will resume at 2.30 p.m. Las Vegas time. Meanwhile, the event #4 (NLHE $ 5000) will begin today in day and several members of PokerCollectif will be there!
PokerCollectif will keep you abreast of the results. You can check out the news of the event #3 of the 2011 WSOP on the forum by clicking the following link:
2011 WSOP - Event #3 - Omaha hi-low split 8-or-better - Guillaume Rivet leads after a day of game.
BLOG COMMENTS POWERED BY DISQUS
---